Ready For A Home? Get Things In Order And Looking Good.
(Akiit.com) If you are moving into a new home, the first thing that you need to look at is organisation and how that will affect your impending move. Surely you have secured a removal company that will assist with many things but there are other areas of moving that you may not have considered. Such as car removal. If you own more than one car, you want to ensure that it makes it from A to B easily. In this instance, you should click here and see how a company can assist you. Getting your things from one place to another may sound easy, however it isn't always the case. Preparatory work can take months, so ensure that you start as early as possible. You will want to look at things such as how many boxes you will need, what should be prioritised and what type of budget you will need to have in order to make this all possible. You should be prepared to get quotes in for all companies as well as reviews. 
Although it sounds cliché – it is very worthwhile to start packing the house ahead of time. This way, you can save time and energy in the days before and the day of the move, to ensure that you're not left with a headache and too much stress! Once this is complete, you can look to the future, to things such as the decoration, the new furniture, and of course things such as insurance and more.  
Once you're in your new home, things will fall into place
You will want to ensure that you have a small game plan to ensure that when you open the door to your new property, things can all fall into place. The simple things, such as knowing what boxes store what items, and which things you will need immediately. This can be done by making indexes of your items beforehand and then being able to refer to named boxes. Once you have achieved this, you should consider looking at ways to make your new space really feel like a home. Simple decorating tips can make the space more functional and look like home in half the time you had hoped. Take your time to settle in first and find your feet, but also consider looking at ways to improve the space. That after all, will be the fun part!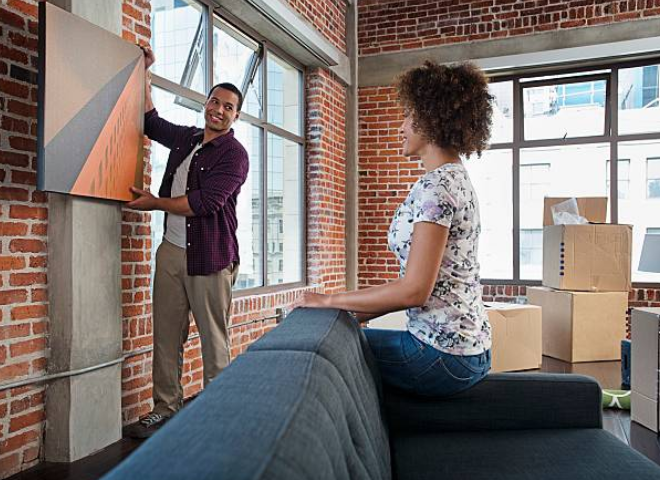 5 New Home Decorating Tips
Create a defined place for each object – It is important to know that when each object in the house has a defined place, it is easier to maintain order and organization in the house. So review the house and this is which objects are a stumbling block for you, for these objects you need to find a convenient and suitable storage place. Before your move, you may have already thrown some things away or sold them online. So be sure to create order in the house for optimum functionality – a key aspect of everything! 
Return each product to its place immediately – Be sure that you always return the object back to its place to maintain order. When each object is immediately returned to the place, things remain easy for everyone in the home; nobody is wasting time looking for things and it saves time in the long run. To establish order is brilliant and should be implemented almost immediately when you move into your new

home

. 
Dispose of unnecessary objects – Notice that every unnecessary object in the house  burdens you and can take up space for new things. If you haven't yet sorted your items before you have moved home, now is the time to really cut back and sort the objects accordingly. Don't overcrowd your home with boxes and take up space in your attic and garage, this is not going to help the situation. Be thorough and get the job done! 
Divide items into groups – In order to gain complete control over the items in your home, it is important to sort the objects according to groups and categories. Where do you put freshly washed clothes? Where do you keep the detergents? Where is it convenient for you to store stationery? When each group has a suitable place you can better control what happens in the whole house. You can do this by using drawer organisers and also looking at a filing cabinet. Make sure that you have the right baskets for each type of laundry and don't let things become disassembled and in disarray -this is a bad first move for the new journey in your new home! 
Baskets, boxes and suitable tools – Make sure you equip yourself with suitable tools that will help you control what happens at home. Different types of storage boxes, baskets and utensils will help you sort your belongings and set the right place for each item. As we have already mentioned above, keeping things named and in a place is vital. 
Staying organised in the months after means less work! 
When you adopt a new attitude, such as changing your mindset towards organisation, then you can save time in the future also. However, this all begins with inside your own mind. You must get into a 'routine' with your organisation as this will greatly impact the way in which you see tidying and organising.  It can become something that you don't give a second thought to. 
The last and most important point – breaking down the task into intermediate stages also makes it possible to carry out the task itself efficiently. Start by creating a list detailing what needs to be cleaned to clarify the task in front of you and when things are clear – it is easy to get them done quicker. When you have just moved house, routine is vital and it can be hard to establish. However, a new home takes time to get used to but in the long run it will completely be worth the while.
Staff Writer; Ronald Brown