What To Look For In A Good Dentist.
(Akiit.com) One thing that is sure about dentists is that there is bound to be one near to you. In fact, given that there are so many dentists around, there will probably be many more than just one close by, and this is where the problems start. If you're looking for a dentist for you and perhaps your family too, you'll have a lot of choice, and while this might seem like a good thing to begin with, when you start to get down to decision making, it can just make the process a lot more complicated. With so many dentists to choose from, what is it you should be looking for that will ensure you make the right choice? With that, feel free to read on for some valuable advice. 
Recommendations 
One of the best ways to choose a dentist is to ask for recommendations. Friends and family who have had a good experience with a dentist will be happy to pass on information about them and give you their contact details. They will also be able to tell you of any bad experiences they might have had to help you steer clear of potentially bad options. If you are looking for more than the standard cleaning of the teeth, then continue on your search. The new trend is for people to get All On 4 dental implants, if one's teeth are beyond repair, and there are plenty of professionals out there who can help restore that perfect smile.
Note: Once you have the recommendations, you must always check out reviews and do your own research too. It's great to hear good things, and it will certainly point you in the right direction, but it's only a start – you'll need to conclude the investigation yourself.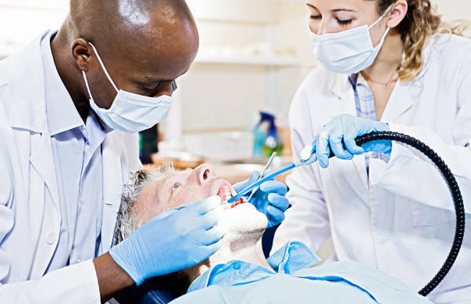 The Clinic 
Going to the dentist is not always the most enjoyable of experiences; some people get very nervous indeed, and even those who aren't afraid of seeing a dentist may not like the process very much, especially if they have issues with their teeth and a dentist causes them any pain. 
To combat these fears and make the entire situation feel better, the clinic itself has to be comfortable. If your dentist uses Medifit to design and fit-out the space, you'll already know that it will be created with the patient in mind. If not, it's best to go and check this out before you make an appointment to ensure you're happy with how the clinic itself feels. 
Services 
Some dentists specialize in just one element of dental care. Some are much more general, while some may be a specialist dentist for kids. Some can do some things and not others. It's important to know what services your potential dentist can offer you, especially if you often have issues with your teeth, as you might prefer to choose a dentist that has experience in many different areas of dentistry. 
If you only ever see a dentist for a six-monthly or annual checkup and you never have any concerns with your teeth, then you might not be so concerned with exactly what your dentist can do as long as they can carry this task for you. It will entirely depend on the condition of your teeth and what you know you need your dentist to do. 
It's also a good idea to ensure that the dentist you choose can help all family members. If you choose one specializing in adult teeth, will you need to find another clinic for your children, for example? Everyone should have the same dentist for ease and consistency. 
Staff Writer; Steve Short