Film Review; Paris 13th District.
(Akiit.com) (***)
If bed swapping was a sport, these French twentysomethings would be Olympic-caliber athletes.
Millennials have infested Paris'13th arrondissement district. They walk down streets, chatting and philosophizing. It's enough to make you wonder who they are, what they do and where they're going. If your eyes focus on Émilie (Lucie Zhang), Camille (Makita Samba) and Nora (Noémie Merlant) you'll be curious about the Asian customer service rep, African PhD candidate and white law-school student. Friends? Lovers? Do their lives intertwine in very erotic ways? Yes. Yes. Yes.
These kinds of characters are prevalent in the novels and cartoons of Adrian Tomine. He's a fourth-generation Japanese American cartoonist whose drawings have appeared on New Yorker Magazine covers and in his graphic novel of short stories Killing and Dying, which has made the New York Times Best Seller list. Tomine's frank portraits on lost urban souls weathering life are the source material for a script by writer/director Jacques Audiard (A Prophet), screenwriters Céline Sciamma (Portrait of a Lady on Fire) and Léa Mysius. Their screenplay muses about life among the young and sexually driven.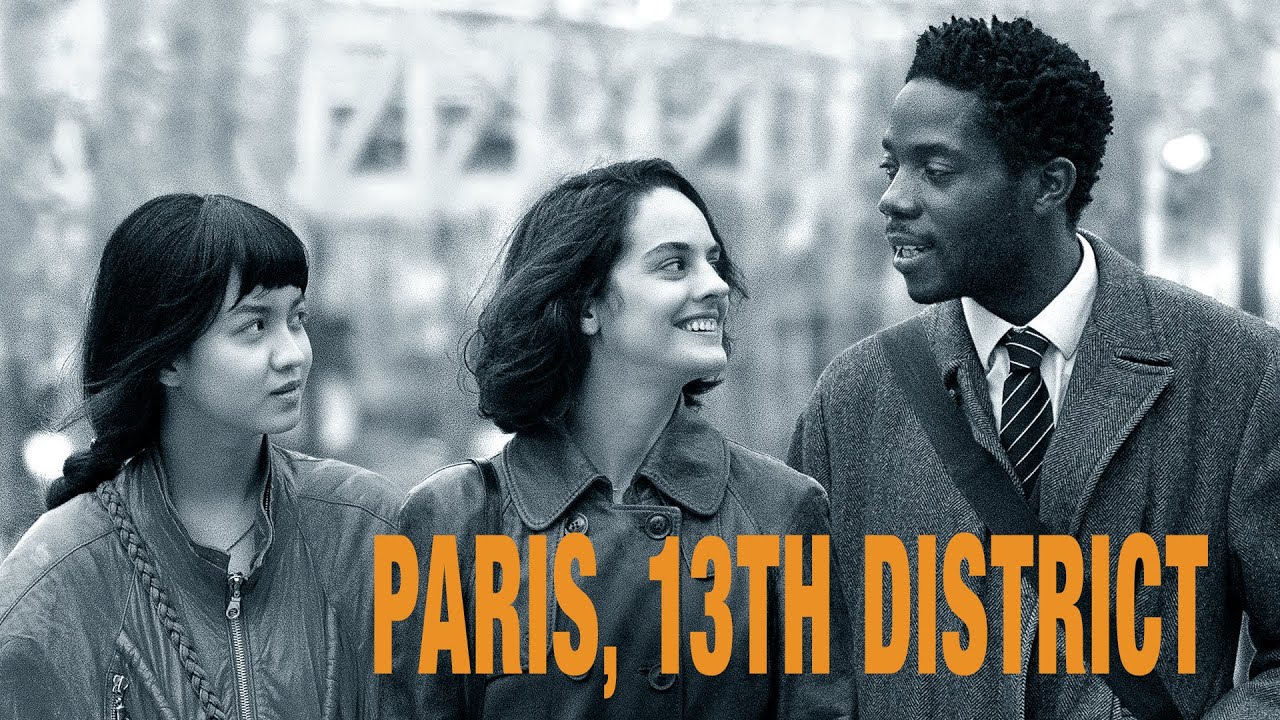 Émilie is renting out a room in her two-bedroom apartment. The first inquirer is Camille. Émilie wasn't expecting a man to reply to her want ad and is put off at first. She eyes him suspiciously. He calms her nerves. It's a deal, they'll do that roommate thing. Almost in seconds, they're in each other's arms, kissing, cuddling, murmuring, thrusting. She's smitten. He's aloof.  She wants more. He puts space between them.  Émilie: "When you said 'not tonight' what did you mean?" Camille: "We're not a couple, we're roommates." He moves out.
Camille works at a real estate agency. That's where he meets Nora. They're attracted to each other. She's not nearly as aggressive as Émilie. But eventually, the two crease the sheets too. In fact, all three hump like rabbits. They're not opposed to bedding other people, flirting with video cam sex workers (Jehnny Beth), using sex apps to find erotic partners and letting physical desire run wild. Drugs are used. Condoms are not.
The trio's exploits are filmed beautifully (Paul Guilhaume, Kanye West: Heaven and Hell video) in black and white—with lots of shades of gray. Interludes are caressed by romantic music (Rone) and cut down to the core (editor Juliette Welfling, The Diving Bell and the Butterfly). As a director, Audiard is not afraid of nudity, eroticism and intercourse—and neither are the cast. Bed scenes are plentiful. Drama surrounding the lovers, their families and careers is just enough of a cohesive factor to pull plot pieces, romantic yearnings and a youthful spirit together. It's like they're sending a beguiling postcard from Paris that smells like sex with a hint of love. Daring you to join them in the City of Lights.
The multiracial casting seems natural. Not woke. The friendships, budding romances and journeys of self-discovery are winsome, instinctive and a pleasure to watch—even in the most mundane, everyday circumstances. Tomine's images laid the groundwork, the script adapted his notions, the direction put them into action and the tech crew set the atmosphere perfectly.
An immense amount of credit for making this cityscape work must go to the actors. Zhang makes the cloying, sometimes lazy and immoral Émilie fascinating as she deals with sobering realities and her unbridled lust. Samba's Camille embodies a man of African heritage as he delicately balances family responsibilities and his blasé love life. While Merlant's escapade with a woman she sees on a video feed is a very modern and fluid dynamic.
Sex, life and love are more than a sport to this trio. But not much more. And that should suit art-film loving audiences just fine.
In theaters April 15th.
Trailer: 
Columnist; Dwight Brown
Official website; http://DwightBrownInk.com