D.C.'s majority-black status slipping away
WASHINGTON — (Akiit.com) Much has changed since Ben's Chili Bowl opened nearly 50 years ago on a bustling strip known as America's Black Broadway for its thriving black-owned shops and theaters.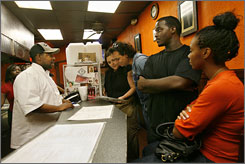 Back then, the red-and-white diner was a popular hangout for black bankers, doctors and blue-collar workers who lived and worked along U Street. Even jazz greats Duke Ellington and Ella Fitzgerald could be found devouring chili half-smokes and milkshakes after performing at nearby clubs.
Now, on some days, the crowd at the Washington landmark is mostly white, reflecting a neighborhood metamorphosis that has brought in high-end condominiums and businesses like Starbucks.
"Sometimes you look around and wonder, 'Where are all the black people?"' said Virginia Ali, who opened the diner with her husband, Ben, in 1958.
A similar transformation is happening across Washington as the black population declines and more white residents and other ethnic groups move in. Demographers say if the trend continues the District of Columbia could lose its longtime majority-black status within 10 years. The changes are shaking up city politics, reshaping neighborhoods and displacing longtime residents.
Washington's black population peaked at 71% in 1970 as tens of thousands of white residents left for the suburbs, according to the U.S. Census Bureau. But by 2006, the estimated number of black residents had fallen to 57%.
At the same time, the population of white residents, which plunged from 65% in 1950 to 27% 30 years later, is growing. By 2006, the census estimated that 38% of D.C. residents were white. The city's Asian and Hispanic populations also are climbing.
Analysts attribute the shift to lower-income and middle-class black residents leaving for the suburbs while young white professionals and others able to afford expensive housing prices are moving in. The newcomers to D.C. are being lured by a robust economy, new condos and a chance to escape worsening highway congestion.
"The city today is occupied by a lot of singles and childless couples who have put incomes together," said Robert Lang, director of the Metropolitan Institute at Virginia Tech. "I don't think it's a straight-on white gentrification — it's more affluent as a whole."
Washington isn't the only city where neighborhoods have gentrified in recent years. But William Frey, a demographer at the Brookings Institution, said D.C. is one of the few places seeing such dramatic change. He expects the city will cease to be majority black by 2015.

The city's diversifying racial makeup is being reflected in local politics. Adrian M. Fenty, who became mayor in January, is black but many of his appointees are not. The police and fire chiefs are white, as is the city administrator. The new chancellor of the city's public schools is Korean American. Those positions were held by black officials under previous mayors.
"Probably, at some point in the near future, we'll see a white mayor," said Dwight Cropp, who once worked for former Mayor Marion Barry and now teaches public policy at George Washington University.
Cropp said such an election would be significant — Washington hasn't had a white mayor since Congress passed legislation in 1973 allowing D.C. residents to choose their own mayor and city council.
The dwindling black population recently prompted council member Harry Thomas Jr. to call for the district's black officials to form an "African American Caucus" to push for legislation that supports black constituents.
Kenneth Carroll, 47, a writer who has lived in Washington his entire life, said the changes mean the loss of what be believes once defined D.C. — a sense of self-determination and self-confidence among black residents that stemmed from their majority status. That pride was instilled in everything from the community's political activism to the rich music scene, which included homegrown artists like Chuck Brown, the godfather of funk-based go-go.
"A lot of blacks saw D.C. as sort of the mecca," said Carroll, who is black. "You came here for education, to get a good job."
It was in those years, however, that neighborhoods such as U Street fell into decline. Many businesses and residents fled when rioting broke out in 1968 after Martin Luther King Jr. was assassinated. That was followed by the cocaine epidemic of the 1980s. Buildings also were razed to make way for a subway line.
Many neighborhoods are now booming. In Columbia Heights, cranes dot the skyline as workers finish construction on a massive retail complex that will boast the city's first Target store. Condos nearby are advertised at $300,000 and up.
Change also is happening near the new convention center on the edge of downtown, where Shirley Williams is trying to hold on to the apartment she has lived in for 33 years. Her landlord recently agreed to sell to a developer who plans to tear it down.
"I've been here through all the rough times and now that it's getting better they want me to leave," the retired school teacher's assistant said. "I don't think that's right."
Council member Jim Graham, who represents some of the city's most racially mixed neighborhoods, said city officials have worked to preserve thousands of low-income housing units amid a red-hot housing market.
"If I wanted to live in a neighborhood where everybody looked and acted like me, I have many choices," said Graham, who is white. "I like a diverse neighborhood."
Still, in May a record 56,463 families were on a waiting list for vouchers to have their housing costs subsidized by the city, according to the latest statistics from the D.C. Housing Authority.
There are indications of growing frustration. Some new residents have complained about unsupervised youths targeting them by throwing rocks. And a local blog has posted complaints about graffiti that reads: "Go Home Rich White People."
Meanwhile, at Ben's Chili Bowl, Ali said she is pleased to see much of the city recovering after years of decline. And Ali and her sons, who now oversee the restaurant, welcome both newcomers and loyal customers alike. She is nostalgic, though, for the way things were when U Street felt like one big family.
While diversity is good and is change inevitable, she said, "you lose the closeness of an ethnic community."