Yes, Black Quarterbacks Are Still Held To A Different Standard.
(Akiit.com) Despite Cam Newton leading the Carolina Panthers to a 15-1 record during the regular reason and two playoff victories en route to his being selected the NFL's Most Valuable Player and six Black QBs playing in the Super Bowl, Black quarterbacks are still routinely subjected to a double-standard by fans and the media.
In a game an error-filled game in which neither star quarterback played particularly well, Newton's team lost Sunday to the Denver Broncos 24-10. Even so, he had a stellar season by all accounts: throwing for 3,837 yards, including a league-high of 35 touchdowns, and running 636 yards, accounting for 10 more TDs. He was selected as a first-team All-Pro and received 48 of the 50 votes cast for league MVP.
The undisputed leader of his team was clearly having fun on the field all year –
at least until Sunday — and wasn't shy about showing it. And that's a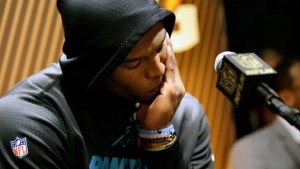 breath of fresh air in the NFL – which some say stands for No Fun League. Not only does Newton have at least five different dances, he races to end zone stands after scoring and flips the ball to a smiling, grateful kid.
Similar criticism is never leveled at quarterback Aaron Rodgers who performs the Lambeau Leap in the end zone stands after scoring a touchdown. While other teams are penalized for excessive celebrating, the NFL exempts Green Bay players from being disciplined for jumping in the stands after scoring.
But officials are quick to penalize Black players.
Although African Americans comprise 65 percent of the NFL, they receive 91 percent of the unsportsmanlike conduct penalties assessed after touchdowns, according to a 2012 study titled, "The Hubris Penalty: Biased Responses to 'Celebration' Displays of Black Football Players."
The authors, Robert Livingston and Erika V. Hall, noted of the celebrations, "This challenges whites' perceptions that they are and should be in charge. These perceptions and feelings often operate at an implicit or subconscious level. However, it is the black player who ends up getting blamed, rather than whites' implicit bias.
"What is clear, however, both in our data and in many real-world scenarios, is that it's perfectly fine for white males to show a lack of humility. People not only tolerate it, they often celebrate it."
Green Bay Packers quarterback Aaron Rodgers is a case in point.
Rodger's patented post-touchdown championship belt celebration is not only tolerated, it has allowed him to laugh all the way to the bank when he films commercials for State Farm Insurance featuring the Discount Double Check.
Whites' implicit bias may also account for Black quarterbacks being roughly twice as likely as White QBs to be benched, according to a study by Brian Volz, an economist at Assumption College.
The abstract of the study provides this summary:
"This study examines data from the 2001 to 2009 National Football League (NFL) seasons to determine whether Black quarterbacks face discrimination. When controlling for injury, age, experience, performance, team investment, backup quality, and bye weeks, Black quarterbacks are found to be 1.98-2.46 times more likely to be benched…
When White quarterbacks are benched, the team improves by more than when Black quarterbacks are benched."
Because the effervescent Newton seems to be having so much fun on the field, many underestimate how hard he has worked to reach the top of his profession.
"Cam Newton didn't just stumble into becoming the NFL's best player," Associated Press sports writer Steve Reed observed. "Sure, he has all the physical attributes any quarterback could ask for – he's 6-foot-5 and 250 pounds of muscle with a strong arm and wide receiver speed. He even has a million-dollar smile and the confidence of a player who has always been a winner.
"But those in the Panthers organization say what people don't see is what Newton has done behind the scenes to improve as a pro quarterback.
"'People see him smiling, giving footballs away and dancing, but what they don't see is that throughout the workweek the guy is just a machine,' center Ryan Kalil said. "'He's incredible with the time he puts in.'"
The off-field behavior of Newton and other Black quarterbacks is, like so many other things, is viewed through different lenses.
According to a story on ESPN.com, "On Dec. 30, Cam announced the birth of his first child, the boy he named Chosen. The mother, Kia Proctor, was described by Newton as his 'longtime girlfriend.' The announcement, made six days after the boy was born, hit the front page of the local papers (of course) and occasioned another finger-wagging letter to The Charlotte Observer (of course.) Patricia Broderick of Mooresville expressed her disappointment in Newton and suggested he marry the mother of his child. 'Congratulations would be in order,' she wrote, 'if he had been man enough to marry the mother of his child and make a home.'
"Well, of course she said that. Tom Brady can have a child out of wedlock – and leave the actress/mother for a supermodel before the baby was born – and not be blamed for the systemic deterioration of the American family and the scourge of fatherless households. For Newton, it was yet another lens through which to view him, as if maturity, greed and race weren't enough."
Columnist; George Curry
Official website; http://twitter.com/currygeorge