Five Tips for Picking the Right Sports Bra.
(Akiit.com) Alright ladies, this one's for you and the girls. Today I'll be sharing 5 tips for picking the best sports bra.
But first…. a Fun Fit Fact:
The first sport bra (initially called the Jockbra) was created in 1977 by two ladies named Hinda Miller and Lisa Landhal who bought a pair of jock straps and sewed them together into a bra. Yes, you read that right. The first sports bra prototype was created by two very innovative ladies who actually affixed a pair of jockstraps to their breasts!
To learn more about the amazing and somewhat hilarious origin of the sports bra, check out the video…
Fast forward to present day, and we've definitely come a long and fashionable way from jockstraps. Even still, with the wide variety of "technologically advanced" sports bras on the market, stats show that a good majority of women are wearing bras that are not properly fitted – which is a big no bueno that can eventually lead to complications like back pain and the dreaded saggy boobs. Yikes!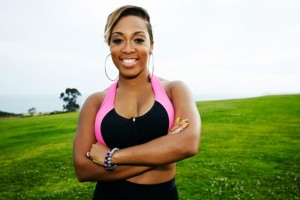 How to Pick a Sports Bra
So first and foremost, when choosing a sports bra you should know that there are two major types to choose from: compression bras and encapsulation bras. Compression bras have no form and literally smush the breasts inward to keep them in place. Encapsulation bras, on the other hand, have cups that are built to house each breast more comfortably and firmly in place while maintaining the natural form of the breast.
As a general rule:
Encapsulation bras are considered the most favorable among sports bras for performance (e.g. high impact workouts), aesthetics, and are also highly recommended for larger-breasted women.
On the flip side, compression bras are generally okay for smaller cup sizes (A and B) or for low-to-moderate impact workouts.
Alright, so once you've made the decision between bra type? compression or encapsulation? you'll want to follow these 5 additional tips:
1. Do the jumping jack test
The whole purpose of a sports bra is to control breast motion without causing discomfort. To test if your bra's doing its job, find a comfortably fitted bra, put it on and then do 10 jumping jacks while facing a mirror. As you jump make note of any discomfort, and watch carefully for "bungee" boob action. In other words, when you stop jumping, so should the girls.
2. Watch for peek-a-boobs
A peek-a-book is when the bottom portion of your breasts slip out from under the sports bra. In the case of peek-a-boobs you should choose a compression bra with a snugger band or an encapsulation bra with an underwire style that sits more firm and flat on your chest.
3. Watch out for straps that ride high.
Turn sideways and check the back straps of your bra. If the back straps are pulling up and riding higher than the front of the bra, the band might be too large or the straps too short. Try a smaller band size to keep things anchored and release the straps a little if they're adjustable.
4. Beware of cups that runneth over
If the front or sides of your breasts are spilling over at top or sides of your bra, you should definitely upgrade to a larger cup size.
5. Beware of loose cups
Cup looseness that results in wiggly, giggly and bungee boobs are all clues that you should go down a cup size, or possibly that your bra is just of poor material/quality.
Overall, the biggest mistake women make in sports bra selection is not accurately assessing their bust size. So make sure to do a realistic "boob analysis" and take note of whether you've gained or lost weight. Then thoroughly test bras using the 5 tips above to find the one that best matches your bustline and workout activity. Remember, quality of fit should be your first priority when choosing a sports bra. And of course, "cuteness" should come a close second
What's your favorite sports bra brand and where do you shop for sports bras?
Columnist; Dr. Phoenyx
Official website; http://www.drphoenyx.com