Thy White Oscars Tune Out is About Dollars, Dollar, Dollars.
(Akiit.com) The ancient adage in TV commercial advertising is if people watch they'll buy. If they don't they won't. In other words, it's a numbers game, and the bigger the measured number of viewers who tune in to a TV show the more the cash registers jingle for the shows advertisers and sponsors. A tune out of a telecast poses grave peril to those hard spent ad dollars. The Oscar telecast is no different. The issue is by now well known, but bears repeating.
The film industry and the Motion Picture Academy pays much lip service to diversity, but the past two Oscar telecasts have had zero nomination or awards to black actors despite acclaimed performances, and marginal recognition of Latinos and Asians. Then there's an Academy that repeatedly makes big promises to change complete with well-timed, and promoted steps that are cumbersome, time leaden and offer no real promise of top to bottom diversity in the Academy and industry's top ranks.
So how will a tune out change that? Let's first crunch the Oscar's telecast's advertising names and the numbers. General Motors' Cadillac, AARP, Samsung, Coldwell Banker and J.C. Penney. Retailer Penney, McDonald's American Express Co. Netflix and PetSmart were the big bank rollers of the 2015 Oscar's telecast. A 30 second spot cost them a minimum of nearly $2 million.
The year before in 2014, the Academy raked in nearly $100 milli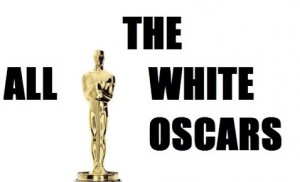 on from its Oscar related activities. This was nearly two-thirds of its overall annual revenue, according to the academy's financial filings. The actual Oscar ceremony telecast is the advertising jewel in the crown for the organization.
Even the slightest downtick in a TV telecast's viewing audience, say even by a tenths of a ratings point, is huge in the ad business and will cause a ripple if not shock to advertising agencies.
Now it's true that the Holy Grail for advertisers is the Nielsen Ratings and it uses fifty thousand or so hard wired viewers to determine its viewer numbers. But a tune out that generates a real buzz and momentum in the general public and that's tied directly to the failure of an industry to make substantive change toward real diversity will have sledge hammer impact beyond simply the official measure that Nielsen uses.
Let's look at why advertisers advertise their products on a telecast to see why. Corporations, like Hollywood, are also highly image conscious. Their product is not just a good or service. It carries the company's good name and that means consumer goodwill. That good name and good will can translate out into added millions of dollars in product sales. A taint or tarnish of that brand is something major corporations try to avoid at all costs. At the very least, it further stirs public conversation and debate over whether a corporation wants to pay millions to embroil its company name and product in controversy.
There is yet another negative ripple effect for a corporation that pumps ad dollars into a telecast, such as the Oscar's ceremony, that's mired in controversy. A 2011 study that examined the effects of a boycott against companies found that that no matter whether the boycott was successful or not it still drew just enough adverse publicity that it had an effect on the company's stock price, namely a decline. It didn't last, but it hurt for the moment nonetheless.
In 2015, advertisers tumbled over themselves to snatch the Oscar telecast spots in part because of the glitz and glamour of being showcased in an industry that's all about glitz and glamour. And in part because tens of millions tune in. But in 2015, those tens of millions of viewers took a precipitous plunge. This was a seismic warning that a lot of people aren't so thrilled with Hollywood and its gigantic annual TV tout of itself.  A tune out that challenges advertisers to think hard about putting their dollars into a telecast that sees fit to reward almost no minority talent with its seal of approval, showpiece, top awards markedly raises the stakes.
In 2015, the Nielsen Ratings for a major telecast such as the Oscar's telecast was announced almost before the last award was presented. When the ratings took the dive in 2015, that was news, big news, and it prompted critics to raise all kinds of criticism about why the Oscars had lost its viewer pizazz. Diversity, racial exclusion, and the possible turn off thousands of disinterested minority viewers who saw absolutely no relationship to what the Oscar's ceremony promoted as film excellence and the reality of a diverse America weren't the reasons given. This year that won't be the case. The numbers of those who watch or don't watch will be watched as closely as the ceremony itself by advertisers and sponsors. A tune-out that plunges those numbers will send the hard message to the Academy that diversity must be more than a dictionary word or a public relations gambit. It's about dollars, dollars, dollars. The white Oscars tune-out will make that point.
Columnist; Earl Ofari Hutchinson
Official website; http://twitter.com/earlhutchins