Starting A Construction Business: The Ins & Outs.
(Akiit.com) Starting any business takes a great deal of work and determination. Fortunately, it is also an incredibly rewarding experience, and one which can teach you a great deal which is valuable. Starting a business in construction has its own particular merits and potential pitfalls. If you are considering this kind of project, you should be aware of both. Perhaps you have been working in construction your whole life, and you feel it is time to put your experience to good use. Or maybe you just think you have found a niche in the market for your particular brand. Whatever the reason is, setting up business can be a viable method for realising your potential. Let's go through the process of starting a construction business, step by step.
Plan & Consider
With your wealth of experience in the construction world, you no doubt have a good idea of how important planning is to any project. Well, starting up a business is no different. For a business to have a decent chance of survival in today's world, it needs a soli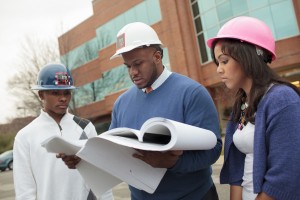 d plan which can be adhered to and referenced whenever needed. Before you do anything else, sit down and work out your business plan. This might sound like a mammoth task, but it doesn't need to be. There are even a whole load of templates to help you with the basics. The most important thing to remember is to make the plan as detailed as you possibly can. The more you plan now, the fewer problems you are likely to have further down the line.
Financing
Any business needs a good amount of money behind it. But with construction, it might be argued that it is particularly important. After all, it is in the nature of this kind of business that there are many cost-heavy factors to take into consideration. That's why you need to start thinking about the financial side of things as soon as possible. There are plenty of ways to source the money your business needs, from grants to loans to finding a benefactor.
Purchase Machinery & Equipment
While a startup may well be run from an attic or a spare bedroom, a business of this nature cannot. In order to run your construction company, you will need those essentials from the outset. It is important that you shop around for your machinery and equipment. You don't want to spend more than is necessary. Use the likes of SJH All Plant Machinery, so you know you are getting a good deal. It is in your interest to keep costs down as much as possible when sourcing your equipment.
Hire The Right People
You want to ensure that your business is populated by the right kind of people. Ideally, those you hire will be experienced and passionate. If your business has a unique ethos and you know people who believe in it too, then approach them. Ultimately, the people make the business, so take this process slowly and carefully. As long as you hire the right people, your business will likely do well.
Staff Writer; Michael Short