The Specialists You Need In Your Business.
(Akiit.com) We speak a lot about cutting business costs. After all, with less cost comes more profit. Right?
Well, not always. If your business isn't doing everything right in some key areas, then overall quality is going to go down. And if quality decreases, it wouldn't be smart to expect to get more profit, would it?
It might be tempting to cut costs by trying to do some of these jobs by yourself. But you really should be looking into getting the best of the best when it comes to these specialist areas. So don't cut corners: hire these people today!
Accountants
What, you were thinking about doing all that bookkeeping yourself? The more successful your business becomes, the more you're going to need someone who knows how to handle your funds. You may call them accountants. You may call them financial controllers. You may even consider just using an executive to do everything for you.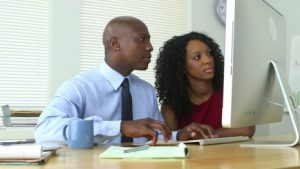 Whatever you call them, don't ignore them. They know how to handle business taxes, which is essential if you don't want to, y'know, get fined or go to jail. And if you find yourself in need of money, they can give you valuable accounting tips for business loans.
IT
It's tempting to do without an IT specialist. I get it. After all, isn't everyone adept at using computers these days? People know how to update computers if they're running a little slow. And if they break down completely, then surely anyone these days can take apart a computer and fix it? And if not, it's easy enough to just buy a new one. Right? Well, no so fast. All these problems are going to affect employee output in a big way. Don't just assume an employee knows how to fix a problem. Either get a full-time IT specialist, or look into outsourcing.
Social media managers
Wait. Why would I possibly need to hire someone to sit there and use social media accounts? Isn't that the easiest thing in the world to do? Millions of people do it every day for free! Of course, this thinking is wrong. Handling social media for a business can get very tricky. You could be dealing with thousands of followers, many of who might be trying to contact you. Plus, to keep yourself relevant online, you need to be creating content for all your social media platforms. Depending on the size of your company, it should be considered a part-time job at least.
Marketing
Marketing is becoming more and more involved as a job in and of itself all the time. It involves having intimate knowledge of the way the average customer uses various media platforms. It also requires thinking outside the box to bring the best marketing techniques to your social media accounts. And no, the social media manager I just convinced you to hire probably isn't going to have enough time to do it for you! Again, this is something you can consider having outsourced by using a digital marketing agency.
Staff Writer; George Moore