Mysterious Cases Of Missing African-Americans That Remain Unsolved.
(Akiit.com) Believe it or not, thousands of people go missing in the US every week. Most missing people are found hours and sometimes days later. But there's a small minority who are never seen again. These are the cases that generate the most intrigue. Here're some of the most mysterious missing person cases ever recorded.
Alyssa McLemore
Alyssa McLemore was a young black woman who went missing in 2009. On a regular evening in April, she got a call from her grandmother. It wasn't good news. Her mom was sick and getting worse. She had a condition called scleroderma and was dying. Alyssa hopped into her truck and started driving over to her mom's house. But on the way, something terrible happened. At around 9:15 that night, the local police department got a call. It was Alyssa. She was clearly in trouble. But all the dispatcher could hear on the end of the phone was a cry for help. Her phone was not GPS located, and so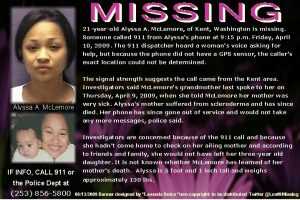 there was no way for the police to find where she was. She was never seen again.
Garness Moore
Garness Moore was a seven-year-old boy when he went missing. He didn't live with his parents and had been passed around relatives, all of whom didn't want to care for him. Eventually, he wound up in the care of his aunt.
Other relatives tried to see Garness, but his aunt insisted that they were both going to move out of town. That was in 2002, and he hasn't been seen since.
Trying to find someone who is missing is hard at the best of times. But finding Garness Moore was made even more complicated by the fact that he was only reported as such three years after he was last seen. In 2005 relatives raised the alarm that Garness was missing when they tracked down the aunt. But the aunt just said that she had passed Garness over to the police. She's stuck to her story, and Garness's whereabouts remain unknown.
Asha Degree
Asha was a nine-year-old girl who lived with her dad. One night, she decided to up sticks in the middle of the night. She got out of bed and started walking down the street at about 2:30 in the morning. As she walked, she was seen by a pair of truck drivers. They said that the time was about 3:30 a.m. A little bit later, she turned and walked off into the darkness, and there are no more witnesses.
Three days later, and evidence of where she had been started to show up. Police found her hair band near an old shed. Then they found her pencil, again close to where she had last been seen.
Nearly two years later, police uncovered the rest of her belongings, double-wrapped in bin bags 25 miles from where she was last seen. Curiously, her possessions were found in the opposite direction to that in which she had been walking. The police opened a criminal investigation, but never found anything besides a few old animal bones and some clothes.
Staff Writer; Sean Barron