He Who Cares Wins: A Guide To Keeping Elderly Relatives Healthy & Smiling.
(Akiit.com) There's nothing more important in this life than family.
After a lifetime of receiving support and guidance from your folks, old age is a time for you to return the favor. Your parents deserve to feel comfortable and happy throughout their retirement years, and you can play a key role in their happiness.
Of course, you can borrow some tips from your personal aging preparations. However, it's vital that you think about the evolving needs of your parents too. Take note of the suggestions below, and you won't go far wrong.
Be There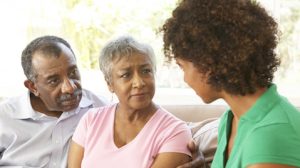 Arguably the most important aspect in all of this is your presence. This is especially true if your parents are separated as loneliness can be an awful thing for elderly citizens. If you seriously care, you'll find a way to show it.
The modern world is a complicated place and visiting on a daily or weekly basis might not be possible, particularly if you are living far apart. Teaching your parents to use Skype and other communicational tech gadgets can provide the next best solution.
But if geography lets you, making the effort to see them face-to-face is a must. Apart from anything else, it'll allow you to ensure that other factors are being adhered to.
Find A Suitable Living Arrangement
There's no place like home, and senior citizens will have a lot more time to spend in theirs. Therefore, it's imperative that their living arrangement generates smiles.
Everyone is different, so the most important factor is that you find the right solution for your parents. Downsizing from the old family property may be a beneficial for some, especially on a financial front. Meanwhile, others may need the support of assisted living facilities. Even then, it could be a choice between healthcare visitors and living in a residential home.
You can provide huge help by researching the options. If it allows your parents to enjoy a better quality of life, it has to be a step in the right direction.
Monitor Nutrition
The human body will undergo various transformations with age. But by fuelling it with the right food, the process is likely to cause far less discomfort. After all, you can't expect it to perform if it isn't being fed the right stuff.
Employing a balanced diet is vital at all stages of life. However, it carries even greater importance in retirement. If your parents still have their independence, supplying them with a slow cooker could be a great way to encourage greater nutrition. If the aging process has left them in a more vulnerable position, an infusion pump may be the best solution.
A lack of nutrients will only leave your parents open to flu and other illnesses. At their age, this can cause great stress and discomfort.
Aging can leave your parents unable to fend for themselves, so you've gotta do it for them. Look after them as they looked after you, and it will keep a smile on their faces and yours. What more could any loving child ever ask for?
Staff Writer; Kevin Daley