The Perfect Item for Holiday Gatherings.
(Akiit.com) With holiday season right around the corner, you probably want to start investigating what exactly you are going to bring to the family's holiday parties. While most might try bringing that same old tired cobbler, or even worse, a cheap gallon of ice cream, consider bringing something a bit more sophisticated and fancy this year.
Armed with a platter of chocolate covered strawberries from Shari's Berries, you will be the new hit of the family get together. No longer will you be renowned for your lack of skills at the domino's or cards table, or the fact that you still don't know how to pop a bottle of champagne properly. Family legends for generations will speak of the beautiful chocolate covered fruit platters that you bring to the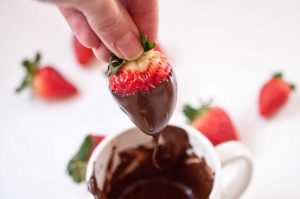 table each and every holiday party.
But if you are serious about bringing chocolate covered fruit to the dinner table, how are you going to find time to do so? In between extra shifts during the holiday season, gift shopping and wrapping, and wrangling the kids during their extra time off from school, sometimes it seems like there is simply no time left in the day at all. That is where you put technology to work for you. Take advantage of some of the advantages of modern technology by ordering your chocolate covered fruit in just a matter of seconds.
Just head over to Shari's Berries' Groupon page and you can score big on a huge amount of fruit for very little cash. With 45% off a dozen tipped berries, 15% off all orders, and a 20% fall promo code right now, there are a number of ways you can save cash. And don't worry if you don't catch these particular deals, because Shari's Berries is constantly changing the discounts offered on its Groupon page.
Next holiday party, do yourself, and the rest of the family, a favor, and bring some chocolate covered berries to the party for everyone to snack on. You will love switching things up a bit, and you'll be amazed at how affordable and easy it is to do, too.
Staff Writer; Greg Washington