Coach A Team Of Allstars! Everything You Ever Wanted To Know About Setting Up A Children's Soccer Team.
(Akiit.com) Has it always been your dream to coach a team of soccer players and take them all the way to the top of a league? It may be too late for you to get into professional coaching, but there is no reason why you can't for a team for your local youth league. If you know you can get enough kids together to make a team, you'll be surprised how easy becoming a coach is! Here is everything you need to know to make a winning team!
Take A Course
Before you can start working as a youth coach, you will need to take a course. As part of the course, you will learn about first aid in case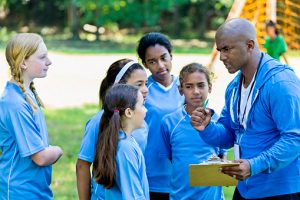 any of your players get injured. You will also learn how to teach the children about safety in soccer. And, of course, you will be taught how to help kids improve their playing and technique! As you will be working with children, you should expect to face a police check. This is nothing to worry about. It just checks out your background to make sure that you are not a threat to children. Everyone who works with children has to go through one of these!

Find A Suitable Venue
First of all, you will need to find a suitable venue where you can practice with the kids. Generally speaking, most local sports centers will be happy to accommodate you. You should find somewhere where you can hold two practices each week. That way, you know all the kids are getting enough practice in! If you are struggling to find a sports center who will have you, ask at local schools. Even though most schools use their facilities for extracurricular sports clubs, they should be able to find a free slot for you. At the end of the day, you can practice anywhere there is a soccer pitch!
Get Your Kit Sorted
Once you have all the kids together and have found a suitable venue, you need to design a soccer kit! This is useful out on the pitch so that all the kids don't forget who is on their team! Not only that, though, but the children will all look super smart and will really look like pros! Most soccer teams have an emblem that they display on their shirts. Once you have designed one, you can create custom patches online. Once they arrive, you just need to sew them onto the shirts!
Join A League
Once you have your team all set up, it is time to enter a league! There are youth leagues in most towns and cities. If there isn't one in your local area, why not think about setting one up?! One of the great things for kids about joining a team is that it motivates them to work as a team. It also gives them something to aspire to! And if you do end up winning the league, you will be extremely proud of all the hard work that they put into the sport!
Staff Writer; Tony Reid