Donald Trump vs. John Lewis: The Civil Rights Crisis in Atlanta.
(Akiit.com) There is a civil rights crisis in Atlanta. While I'm not specifically referring to the battle of words between Congressman John Lewis (D-GA) and President-elect Donald Trump, it makes this the proper time.
Atlanta is full of modern-day plantations. The policies of leaders like Lewis have led to the entrapment of millions of minorities who are stuck in poverty, bad schools and crime-ridden neighborhoods.
Friday, Lewis stated that he would not be attending the inauguration because he didn't believe that Trump was a "legitimate" president.
Trump reacted on Twitter to John Lewis' comments: "Congressman John Lewis should spend more time on fixing and helping his district, which is in horrible shape and falling apart."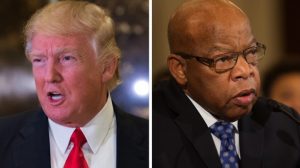 According to the Atlanta Journal-Constitution (AJC), "Atlantans say Trump is wrong about their city and John Lewis." In a display of detachment and delusion, they noted that the Buckhead district of Atlanta, where the average home price is $500,000-$1 million or more is in Lewis's district. "Atlanta was stunned" by Trump's comments they concluded.
I live in Atlanta and those words do not reflect my opinion.
While I don't live in John Lewis's district (thankfully), I live just steps from it. I own investment real estate in his district. I'm not stunned in the least by Trump's comments. They're hyperbolic, but generally accurate. I'll explain.
John Lewis's district includes the affluent areas of Buckhead—even a Ritz-Carlton, Phipps Plaza, and Lenox Square (the two most affluent shopping centers in Atlanta).  But it also includes East Point, College Park, Forest Park, and other similar cities with significant populations.
Lewis and other liberals thrive in districts like this because the population of Buckhead is less than 80,000. Liberals like Lewis pander to voters in cities like East Point, College Park, and Forest Park in order to remain in power. These areas are nearly 90 percent minority and very impoverished. This voter population of these areas far eclipses that of Buckhead or areas like it.
Atlanta is a small city in terms of population. The city's population is under 450,000 people. When people say "Atlanta," they are typically referring to dozens of cities in 29 counties. My fellow Atlantans need to listen to Trump's claim seriously and not take it as a slam on our region.
Atlanta is a great city. But, it has problems just like many large cities in our nation.
Atlanta has incredible character, culturally significant communities, and a great spirit. However, easily lost in that greatness are some avoided areas wrought with problems. This is indicative of many cities across our nation.
Due to the success, rapid growth, and high wages of affluent areas of Atlanta (and its suburbs), it's hard to dissect the numbers to see just how afflicted people find themselves in the "rest of Atlanta." When you average those affluent areas with those deeply troubled areas, the net result are economic numbers that appear to be average as compared to the rest of our country.
Buckhead, Atlanta's most affluent community, weights these numbers (positively) hiding the devastating income and crime story to which Donald Trump was referring in his tweet.
The median household income is $37,000 a year in East Point, Georgia.
In Forest Park, it's $31,000 per year according to City-Data.com. That's down almost $3,000 since the year 2000.
City-Data says the average household income in College Park, Georgia is $26,000 per year. It was nearly $31,000 in the year 2000.
East Point has a violent crime rate that is one of the highest in the nation and was named "the most violent suburb in the nation" by Curbed magazine in 2014.  Forest Park isn't much better, earning a 2 out of 100 for safety (100 being the safest) by neighborhoodscout.com.
Again, Trump has shed light on a fact that most of liberal leaders simply wish to avoid — likely because they are partially to blame.
Reporting statistics by averaging affluent areas with impoverished ones is a nationwide epidemic instituted by liberals and ignored by the media. You can't add "terrible" and "great" together and divide by two to get "average." Doing so ignores those most in need of our help.
Lewis's district encompasses an area where nearly 50 percent of the tenants in rental homes receive an eviction notice each year (according to a recent report by the Atlanta Federal Reserve).
There are 750,000 residents in Congressman Lewis's district. Almost seventy-percent of them are minorities. Over fifty percent of this district is in an area where the median income is substantially lower than national average and the crime rate is astronomically higher.
Many are joining Lewis in a boycott of Trump's inauguration stating they will not attend either. This strikes me as rather childish because it wholly ignores the magnificence of our nation's long-standing peaceful transition of power. They are un-American to boycott an inauguration fully reflecting the people's vote.
I realize that John Lewis fought hard for civil rights alongside Martin Luther King, Jr. However, those moments and images circulating the media as a defense of Lewis are four to five decades old.
Yes, he was beaten and abused during those years by civil rights opponents. Yes, he deserves credit for his hard work. However, we must stop projecting any former leader's past accomplishments into the present as qualifying exemptions from ridicule or accountability for present-failure or stupidity.
Congressman Lewis is an honorable "has-been" and this "war of words" needs to transfer into a war on poverty and crime. We need fresh minds with modern ideas as to how to lead "Georgia District 5"  (and hundreds of similar districts across our nation) out of their crime-ridden, poverty stricken status.
The modern planation is full of voting-slaves trapped in poverty and crime serving the political purpose of keeping people like Congressman Lewis in power. We owe them freedom and opportunity from this oppression.
Columnist; Bryan Crabtree
Official website; http://www.thebryancrabtreeshow.com