Higher Life Conference UK 2017 Will Touch Lives!
(Akiit.com) 2017's Higher Life Conference UK with Pastor Chris Oyakhilome is set to occur on September 8 to 10 at the O2 Arena located in London, SE10 0DX, with the objective of transmitting God's Word and ministering while speaking about the higher life. "Pastor Chris" is a best-seller author and is also recognized as a faith healer. Pastor Chris has established a ministry that has been helping millions of people all over the world.
The "Higher Life Conference UK" where Pastor Chris Oyakhilome speaks, is not considered an expensive event. This year's event will once again take place at the O2 Arena situated in London, which features a stadium with the seating capacity for up to 20,000 worshippers, which is only smaller in seat possibilities when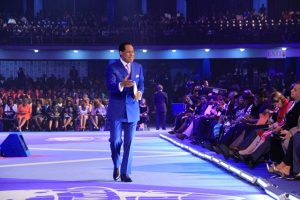 compared to another indoor stadium located in the United Kingdom.
People attending the conference should expect to understand that the children of God should possess a higher life. This event will feature praise, prayers, and worship in addition to a music festival featuring daily performances performed by internationally recognized gospel artists. It is certain that God should operate miracles and heal at this event. Interactive videos will play onscreen for the attendees as well as the true believers being able to receive the Holy Spirit through the action of impartation.
The general public has been able to register since August 7, 2017. The Higher Life Conference will feature one session per day in the afternoons on all 3 days. Each session costs £1.50 and will cost £4.50 for attendees planning to be present for all three sessions.
Pastor Chris Oyakhilome alongside one more Believers' LoveWorld Pastor will be present at the sessions which will include anointed interpretations of the Bible, anointing, healing, lessons on speaking in tongues, lessons on Jesus and His meaning to us, meditation, miracles, preaching, teachings about walking in love, and worship. The three sessions should be concluded with powerful hallelujahs as well as revelation, and also the inviting of the Holy Spirit.
Pastor Chris Oyakhilome comes from Nigeria. He is the founder of Believers' LoveWorld Incorporated – which is also known as "Christ Embassy". Pastor Chris' ministry started in Africa and has worked its way to reaching North America and the UK. Pastor Chris is a very famous minister because he runs the InnerCity Mission programs. Pastor Chris professes God's word in Jesus' name. He additionally performs many healing miracles which include curing blood illnesses, blind people, cripples, infertility, as well as sorts of mental illnesses. Pastor Chris has a Ministry that involves a worldwide prayer network for Christians throughout the world.
Pastor Chris is also the author of the Rhapsody of Realities. It is a daily devotional that is available in over 900 languages. The InnerCity Mission program run by Pastor Chris, distributes food, clothing, and even medicine. It also provides free housing as well as free education to InnerCity Mission children focusing on Africa and also reaching other parts of the world.
Pastor Chris Oyakhilome has been able to cure and heal many people. A notable example of this miracle is Edwin Tillyer, who was a former victim of a chronic ankle injury that resulted from an old accident and Pastor Chris at the 2011 Higher Life UK Conference healed him.
Attendees of this year's Higher Life Conference UK will receive a blessing with a unique opportunity of receiving transformation from God's word surrounded by miracles. The 2011 edition of the "Higher Life Conference UK" is said to have been a period of prophetic visitation. Once again, God has touched Pastor Chris Oyakhilome to offer another Higher Life Conference UK for 2017.
Registration is still open and started on August 7, 2017, on the internet site http://higherlifeconferenceuk.com.
For more information simply call: +441708556604.
Staff Writer; Charles Love