Records, Reactions and Routines: The Green Card Medical Exam Facts.
(Akiit.com) Those who are looking for permanent residency in the United States should all undergo a routine health examination in order to pinpoint any underlying diseases, mental illnesses or unknown addictions. With immigration on the rise it is becoming more and more important for those wanting to obtain a Green Card to attend and pass their medical tests. Not only will this give them access to their records and a solid understanding of their health, but it will also allow them to receive the medicines they need sooner rather than later. Their application will only be accepted once a reputable doctor has officially signed off the tests. There is nothing to worry about when it comes to the exam, but here are a few things that you might find useful
Make Sure It's Official
Not all doctors are qualified to carry out immigration medical exams. Be sure to seek out the reputable doctors near you or check out USHP Med to book an appointment. If you don't seek out the correct medically trained doctors you risk paying hefty fees for a completely invalid service. It is worth doing your research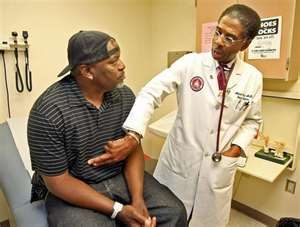 beforehand to check they are officially approved. Once you have found a professional near you, you will then need to supply your medical records. Most importantly, you will need to give them your vaccination history. Any vaccination papers that you can't provide you will then be given including Hepatitis A, B, chicken pox and more. In the winter months you may also be given a flu injection depending on the doctor you are seeing.
Mental and Physical Tests
Both your mental and physical health are very important to assess. All too often mental health is overlooked as it is not often visible to many people. When getting tested for a Green Card you will firstly be questioned in order to examine your behaviour and instincts. If you're found to have any signs of drug abuse or disturbing conduct you may be disallowed or have to undergo further testing.
Your general physical health with also be tested via skin, blood and x-ray samples. Infectious illnesses such as sexually transmitted diseases and tuberculosis will all be tested for in detail. You will often be given the all clear a few days after the examination as it takes time to analyze some results. You will be given the appropriate treatment if you are tested positive for any of these diseases.
The Cost
The cost of a Green Card medical exam differs for each individual patient. It often depends on the doctor you choose to visit, so make sure you ask about their policies before your appointment. If you need medicine or further check-ups you may be required to pay more for this. It is certainly more beneficial for you to keep your records up to date to avoid unnecessary charges.
If you know somebody, or you need to undergo the examination yourself at least you are now well informed of the facts. It is always work seeking advice from professionals and your health should always be your utmost priority
Staff Writer; Jerry Ford