5 Deep Sea Fishing Tips For Rookies.
(Akiit.com) Recreational boat fishing is one of the most popular activities of Americans and other people, too. It's calming, yet exciting, at the same time. If there's no fish biting your bait, you can just lay back and relax, while if there's a tuna or blue marlin waiting on you for react, it won't wait forever, so you ought to be quick and prepared to handle a serious battle.
This article will highlight some of the pieces of advice you should consider if you intend to go out on the water for the first time. Check out these tips for a safe and enjoyable day spent fishing on the boat.
Never forget your safety gear
If you are a rookie when it comes to deep sea fishing, it's better to be safe than sorry. Actually, this saying works with pretty much any activity you might ever want to engage in. On the boat, you will require life jackets for all of the people involved in angling, but also for those who are sitting on the side.
On top of that, you'll also need a fire extinguisher. You might be surprised, but the likelihood of something going wrong is rather high, so the last thing you want to do is have to put out a fire with your hands or just panic because you can't handle it.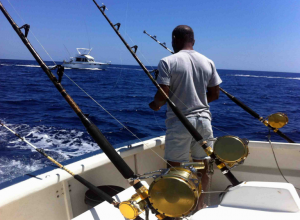 Use the right equipment
Every fish is unique in its own way. If you have no knowledge about the types of rods and reels you ought to use, just ask a guide or some of your friends who might also be interested in offshore fishing. The thing is that such reels and rods have to be sturdily constructed and have to be able to put up with the abuse imposed by heavier catches. The rod has to be bendable, but not to such an extent that it breaks.
As we have noted, every fish has its requirements in terms of the equipment you will need to target it.
Keep an eye on seagulls
Seagulls are good indicators of banks where there might be fish. Otherwise, they wouldn't lose their time in those areas. So, if you have no other means of telling where your potential catches are located, these birds might present you with a valuable clue.
Make use of navigational devices
When it comes to how fishing has evolved over the years, you probably know that there are loads of gadgets nowadays that can help you get the catch you've always dreamed of. One of them is the typical fish finder. Others are far more complex and convenient, although their interface might be anything but straightforward. These range from fish finders with GPS to chartplotters.
Take medication beforehand, but be careful
If you know that you have a problem with seasickness, you need to use medication to get rid of this issue. However, you have to make sure that it does not affect the way you think and your reactions.
You need to be quick and rational and keep everyone around you safe, so that is why we recommend avoiding drinking, even if it's a beer. In some states, consuming alcohol on a boat is against the law, so you might be risking a hefty fine or even jail time.
Staff Writer; Larry Carter