Natalie Cofield; The Living "Madame C.J. Walker" Legacy.
(Akiit.com) Nine years ago, when she was just 26, Natalie Cofield was looking for a mentor.  A young woman with entrepreneurship hard-wired into her spirit, she was discouraged that many did not take her seriously and disheartened that she could not make the connections she needed to further her entrepreneurial mission.  So she started reading biographies of businesswomen hoping to read up on the inspiration on the page that she could not find in real life.
    Madame C.J. Walker jumped off the page for Natalie, and she found a kindred spirit.  Few names are more lauded in Black Women's History than that of Madame CJ Walker.  She was the first African American woman millionaire, it is said.  The first to create a multi-level marketing platform.  The woman who used herbs, hair knowledge, and a hot comb to create an empire.  The woman who funded civil rights activity, and also boldly admonished the men of her era for their exclusionary attitudes.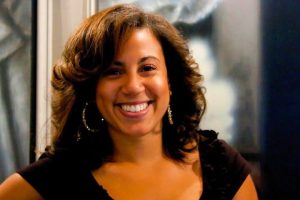 Because many of her eras dismissed her as a "mere" hairdresser, her business success did not get the attention it deserved.  Thus, she disrupted Booker T. Washington's National Negro Business League Convention in 1912 by demanding the microphone.  She boldly told the gathered men that she "promoted myself" from the washtub to the kitchen to manufacturing.  "I have built my own factory on my own ground," she told the National Negro Business League.  Natalie Cofield could not have found more fitting inspiration.
    Natalie Madeira Cofield founded Walker's Legacy (https://www.walkerslegacy.com to fill the gap she found when she looked for mentors and connections.  It started as a quarterly lecture series and has evolved to "a digital platform for the professional and entrepreneurial multicultural woman. We exist to inspire, equip, and engage through thought-provoking content, educational programming, and a global community."  The for-profit platform is the wave of the future, as imagined by a millennial businesswoman who is committed, in the words of the late Ron Brown, to "doing well and doing good."
    Along the way, Cofield has attracted the strong support of established business leaders and thinkers, and especially the endorsement of A'lelia Bundles, the great-great-granddaughter of Madame C.J. Walker, her biographer and the keeper of the Walker flame, which she shares with Natalie.  "Every step of the way she has impressed me with her ability to organize, ramp things up, create partnerships.  Every step of the way as she has tried to expand, she has met my expectations."
    Marie Johns, former Deputy Administrator of the Small Business Administration met Natalie when she was leading the Austin Black Chamber of Commerce.  "Austin was hardly a hotbed of Black Business activity," said Johns, "but Natalie impressed me with her energy and her acumen."
    She was "a standout" as a Black Chamber exec, Johns recalls.  She expects Natalie to be a "transformative leader who will build the infrastructure to provide Black businesswomen with their rightful place in the economy. Like A'lelia Bundles, Marie Johns is an Indianapolis native who grew up appreciating Madame C.J. Walker's legacy.  But like Cofield and Bundles, Johns places the legacy in a contemporary context.  "Black women open businesses more rapidly than other groups," the Obama appointee shared.  "We need the kinds of support that organizations like Walker's Legacy provides."
    A quick peek at the Walker's Legacy website makes it clear that Natalie Cofield is building a Black business women's community.  The organization, which has grown from a one-person operation to four full-time employees, a number of consultants, and directors in Atlanta, Detroit, Chicago, New York, Houston, and other cities.  The website gets around 40,000 unique views each month, and the number is growing.  It's networking events sell out.
    In addition, Cofield created the Walker's Legacy Foundation, providing entrepreneurial training to young girls, low-income women, and single moms.  Last fall, the organization collected business suits for Howard University students to wear for job interviews.  Cofield fully expects that the women who work with the Walker's Legacy Foundation will become members or supporters of Walker's Legacy.
    "We are a go-to organization for women of color who are looking for motivation, connection, education, personal finance and career advice," says Cofield.  With a growing membership base of highly educated (48 percent have a master's degree or more) enterprising young women (average age of 32) Cofield has her finger on the future of Black women's entrepreneurship.
    If you want to enjoy Madame C.J. Walker's legacy, you can visit the Walker Legacy Center, the national landmark to which the Lily Foundation has just committed $15 million to renovate the space that was part of the original Walker company office. Or, you can peruse the Walker papers, now donated to Indiana Historical Society.  Villa Lewaro, the Madame Walker estate, has been restored and is part of the National Trust for Historic Preservation.  It is a monument to the spirit and tenacity of Black women's entrepreneurship.
            You can also celebrate Madame Walker's life and legacy by simply checking out the Walker's Legacy website and joining the Walker's Legacy community.  When asked what she is most proud of about her work, Natalie Cofield says that she is proud that she never gave up on her vision, and that she put her whole heart into the work.  She sounds like her mentor, Madame C.J. Walker, who said that steadfastness and persistence are the keys to success.
Columnist; Julianne Malveaux
FB Page; http://facebook.com/julianne.malveaux