The Best Underwater Tech Out There.
(Akiit.com) If you're a lover of technology, always awaiting the next best thing to come out on the market, as well as having a love for the water, you may have never thought that you could pair the two together as electronics and water don't tend to mix too well – or at least they never used to. You'd be amazed at how impressively far the tech world has come, and it's constantly improving as we speak.
So regardless of whether you love to delve deep into the ocean, or just like to liven up your bathtime routine, we've got you covered with some of the best tech out there to give you the freedom you never had before.
Underwater torch
The GoBe S 500 is a powerful torch that can not only be used on land when you're out in the dark, but can be used in the water world too. It's never been easier to explore the seabed than it is now with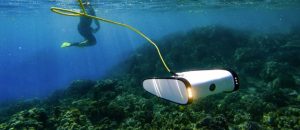 this tool, that shines its beam that can reach up to 500 lumens, brightening any path in front of you. You don't have to worry about it getting tired too quickly either as the battery can last for anything up to 18 hours when used on the lowest setting. And better yet, you can go as far as 120 meters down with it.
Underwater drones
You may never have thought that this would be available to the public, but there is now a whole array of incredible underwater drones that allow you to capture some of the most fascinatingly beautiful sights below the surface. What you once thought to be a mystery is now accessible to be seen clearly for yourselves, other than through the top documentaries on the tv. With this equipment, you can create your very own underwater world of adventure and go wherever you please, just as long as you respect the privacy of the hidden marine life that may be a little camera shy.
Underwater scooter
Ever wanted to be able to zoom through the ocean just like those oh so powerful sea creatures do, without running out of energy and complaining about your arms aching every 5 minutes? Well, now you can with the Seabob F5. Consider it a jet ski but rather than it sitting on top of the surface, it works below it instead. It can go as far as 40 meters, and although this thing is pretty darn pricey, it is so worth it once you're flying through the blue planet.
Now you've been made aware of some of the coolest gadgets out there on the market, delve a little deeper and find something that will give you what you need in order to explore in style freely. And remember, this is only the beginning. Engineers are constantly working to create the next best thing for water enthusiasts, so keep your eyes peeled and look out for all the amazing inventions that are next to welcome us into this modern day world full of geniuses.
Staff Writer; Roy Adams