With Poor Treatment of African Immigrants, Prime Minister Netanyahu Shows His Hand.
(Akiit.com) In my last column, I addressed the murder of Palestinian protesters by Israeli state officers. The racial politics of the Israeli state were also demonstrated by another recent action: the April 3 reneging on an agreement on the handling of African migrants.
The Israeli political establishment goes out of its way to present Israel as a civilized democracy. The hypocrisy of this can, of course, be seen in the apartheid system created to oppress and suppress the Palestinian people. But it can also be demonstrated in actions towards African migrants.
Over the years, African migrants, seeking refugee from war, political repression, poverty, and environmental devastation, have entered Israel in search of a safe haven. This population, which Prime Minister Netanyahu and his right-wing clique have termed "infiltrators," has come to occupy a rung in the social hierarchy reserved for poor and disenfranchised labor. Much like undocumented workers in the United States, these African migrants are subject to various forms of abuse including harassment from employers and government alike. In January 2014, on a visit to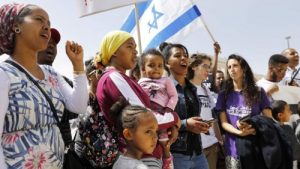 Israel and the Occupied Palestinian Territories, I witnessed demonstrations by African migrants in Tel Aviv as part of a protest against the barbaric treatment that they have received when imprisoned.
The Netanyahu administration originally came to an agreement with the United Nations—after threatening to deport these migrants to their countries of origin—to send them to safer locations. Returning the migrants to their countries of origin would, in some cases, be nothing short of a death sentence.
On April 3, the Netanyahu administration put this deal on hold, throwing into uncertainty, the fate of the African migrants. Allegedly due to pressure from his right-wing allies, Netanyahu changed his mind, leaving the status of the migrants unclear, but also leaving unclear whether there are to be further negotiations towards an acceptable resolution of this crisis.
The Israeli political establishment over the years has made Israel available to anyone claiming Jewish heritage. Thousands of Russians entered Israel after the collapse of the USSR irrespective of their ability to prove their alleged Jewish origins. A line, however, has been drawn when it comes to African migrants and in this line one can see evidence of the racial politics of the Israeli state.
The democratic face of Israel is crumbling as it becomes more repressive against generalized dissent; as it strengthens the apartheid system against the Palestinian people; and as it ramps up its xenophobic attacks on African migrants. There are no further excuses that can be made nor justifications accepted.
Columnist; Bill Fletcher, Jr.
Official website; http://www.billfletcherjr.com