Movie Review; Skyscraper.
(Akiit.com) The Pearl is the tallest, safest building in the world. Global icon DWAYNE JOHNSON leads the cast of Legendary's "Skyscraper" as former FBI Hostage Rescue Team leader and U.S. war veteran Will Sawyer, who now assesses security for skyscrapers. On assignment in China he finds The Pearl suddenly ablaze, and he's been framed for it. A wanted man on the run, Will must find those responsible, clear his name and somehow rescue his family who is trapped inside the building…above the fire line.
He likes to play the hero (Rampage). He does it all the time (San Andreas). It's what his fans expect (Hercules). His films made him the second-highest grossing movie star of 2017. So, can Dwayne Johnson continue his mojo with this retro feeling (The Towering Inferno) but modern styling (Deepwater Horizon) disaster movie?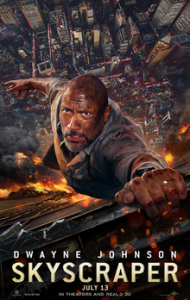 The Pearl, a skyscraper, towers way above other buildings on Hong Kong's beautiful Victoria Harbour. How tall is it? It's 3,500 feet, two-thirds of a mile high and so tall it scrape's heaven's bottom. It's a curvy-sculpted architectural and technological wonder: 225 stories; 30-story vertical park with waterfalls; negative carbon footprint, 100 floors of luxury residential suites on the top. Will Sawyer (Johnson), a former FBI Hostage Rescue Team leader and U.S. war veteran turned security expert, is in town handling safety issues and verifications for the building's billionaire owner Zhao Long Ji(Chin Han, The Dark Knight).
Will, his wife Naval surgeon Dr. Sarah Sawyer (Neve Campbell, House of Cards) and his two kids (Mckenna Roberts and Noah Cottrell) are staying in one of the swank apartments. Ji is in the penthouse, otherwise the fortress is empty. Faster than you can sing the Doors song "Come on baby light my fire," a rogue interloper named Kores Botha (Roland Møller, Land of Mine), who is determined to find a flash drive filled with vital data, sets the place ablaze. With his family trapped inside, Will springs into action.
Oh yes, it is a pretty preposterous setup, and writer/director Rawson Marshall Thurber could care less. His duty is to fortify and rubberstamp Johnson's general game plan: The central character is a flawed human being, trying to get his life back together, he's called into action and after mindboggling challenges he rides to the rescue.
Thurber is pretty handy with the action scenes, which range from fist fights, to climbing the outside of 100-story buildings, to jumping the length of a greyhound bus from one skyscraper to the next. It doesn't really matter that so many of the feats are humanly impossible. Thurber expects the audience to suspend their disbelief for a quick-paced 1h 42min (editors Julian Clarke, Michael L Sale). Thanks to some not so obvious CG tricks, loud sounds, melodramatic music (Steve Jablonsky, Deepwater Horizon) and swift cinematography (Robert Elswit,There Will Be Blood) Johnson's die-hard fans may go along for the ride, even if a voice in the back of their heads is saying, "This is so silly."
As Sawyer precariously climbs buildings with just his hands, one foot and a prosthetic limb, you're tempted to say, "This is the most unrealistic disaster movie I've ever seen."  But, you don't. As you wrestle with your ambivalence, in the heat of action, there on the screen is this likable big hulk of a former wrestler who is more than willing to take the weight of the world on his broad tatted-up shoulders and fight the good fight. Could you ask for more? Like viable feats, innovative direction, a credible script?  You could, but you're not going to get it.
Campbell as the smart wife who can take care of herself and her kids has the right amount of courage. Møller is vile as Botha. Hannah Quinlivan (Moon River) as Xia, a cutthroat assassin, is equally evil but wears chic designer clothes. They all well support Johnson, but he really doesn't need their help. This movie is all about his character and whether or not Sawyer can live to make it to the final credits. Johnson smiles. He makes jokes. Flexes his muscles. Turns on the "please love me" charm offense. He's disarming and irresistible, even if the film is not.
As Dwayne Johnson's career moves on, and he continues to pad his filmography with good and not-so-good action films, some critics will look back on his career and wonder what if? What if Johnson ever showed his full range and how well he can really act?
But his fans? They will be quite happy that several times a year their favorite movie star gives them a mindless, escapist but entertaining night at the local movie complex. If that's all they ask for, that's the only peak Dwyane Johnson has to climb.
Columnist; Dwight Brown
Official website; http://DwightBrownInk.com