Enemies Of America, Yes "Us" Americans!
(Akiit.com) For the past 28 years, I've worked to wake up people across America and the world. Most are in a fallen state and don't know it. Fathers are weak or absent, mothers are angry, and children disconnected from fathers and disconnected from God.
You will never know God unless you love your fellow man, beginning with your father.
Because men are weak, women have gone out of control. Together they've created excuses, a false religion in which "nobody's perfect," accepting wrong as right. Children grow up lost, and in some cases reject Christianity entirely.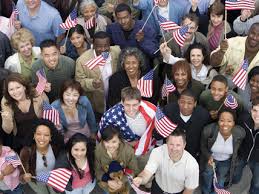 Christ called out hypocrites who refused to enter the Kingdom of Heaven themselves – and sought to prevent others from doing so. This same hypocrisy goes on today in the world, with failing parents, deceptive false authority, "experts" and phony preachers. It's especially ridiculous among "black leaders" and other liberals. But whites and "conservative" Christians are not innocent, which is why our country has sunken to the depths it has. Until Trump, the country was nearly swallowed up by evil. He's standing against the madness, and now evil is desperate.
Everyone can see how insane the liberals, especially "black leaders," have become. Many of them pretend to believe in God, but vote for the party of violence, lies, hate and abortion. The Democratic Party is evil, and anyone who votes for Democrats supports evil. When asked why, they point to Republican so-called "racism," "sexism" or some other made-up "-ism." They bring false accusations against Trump, and attack straight, white, conservative, Christian men – especially those of power. Liberals tout their phony compassion toward the "poor," "minorities," "women" and "children" – but only when the cause favors wrongdoing. They push injustice and call it "justice."
We've all seen how extreme and evil the media is – CNN, New York Times, Washington Post and other leftwing outlets. They hate President Trump, a simple, strong white man who tells the truth and loves America. But they loved Obama, the feminist president who never stopped lying since he ran for president, who hates America. These liberals fanned the flames of the Black Lives Matter riots and cop-killings, but called the agitators "mostly peaceful." The media support the violent communist Antifa thugs, uncritically calling them "anti-racist" or "anti-fascist."
The media and liberals manipulate language to seduce blind people. They support illegal aliens, calling them "undocumented immigrants." They welcome third-world Democrat-leaning Muslims as "refugees." But they call the murder of white South African natives "fake news." They support radical homosexuals pushing so-called "marriage equality" or "LGBTQ rights" (both phony, deceptive, destructive ideas). They paint pro-abortion radicals as "pro-choice" for "reproductive rights," and downplay the ongoing holocaust of unborn children. But they call pro-lifers "anti-abortion rights" (as though being against killing babies in the womb is negative or oppressive).
They call whites "neo-Nazis," men "rapists," and non-leftists "far-right." To them, a non-liberal who defends himself is "violent" and anyone who tells the truth is a "bigot."
They're no longer journalists, but activists – joining forces with the Democrats against America – truly the enemy of the people, as Trump said.
The mainstream media still cite the Southern Poverty Law Center (SPLC) as a credible source. The SPLC is a far-left "nonprofit" organization pretending to track "hate" – primarily attacking outspoken whites and Christians. They inspired a terror attack on Family Research Council by putting them on their "hate map" for being "anti-gay."
The SPLC recently labeled Proud Boys as a "hate group." Proud Boys are a fraternity headed by talk show host Gavin McInnes, founded to promote pride in Western Civilization. Proud Boys typically show up to protect Trump supporters and free speech advocates at rallies. The media call the Proud Boys "violent" for getting into fights with Antifa's "masked protestors." The left don't care that Antifa vandalizes property and attack people at events – including law enforcement and anyone with a camera.
Neither the SPLC, the liberal media, nor the Democratic Party has any authority on what constitutes "hate." They themselves are full of lies and hatred. They have no love.
People who lack love don't have real power – or truth. They only have intimidation and seduction. Unfortunately, many who want what's right have been intimidated and seduced by the children of the lie. I've watched conservatives kiss up to women, blacks and "minorities" as though they deserve special treatment – afraid of being called "racist" or "sexist." I've also witnessed many young people frustrated by this hypocrisy and injustice, taking the opposite extreme. They openly hate and blame women, Jews and even Baby Boomers. In anger, people get into the knowledge of good and evil, and Satan leads them by their intellect into darkness.
I am warning you, if you want to overcome evil, you cannot go with blame. People who blame are defeated – victims, pathetic losers and beta males. If you don't forgive, God won't forgive you, and you'll be overtaken by evil.
President Trump is defeating his enemies because he deals with challenges perfectly, telling the truth with no fear or anger. Let's have faith and do the same.
Columnist; Jesse Lee Peterson
Official website; http://twitter.com/JLPtalk