Tips For Camping With Your Car.
(Akiit.com) If you've always loved camping and you're looking to combine your love for driving with your enjoyment of nature, this article is for you. We have put together a list of pieces of advice for those who want to live the van life at least several times a year. Almost anyone can comfortably sleep in a car provided that they have things designed for comfort with them.
Let's see what can make the difference when you're traveling by car and better yet, sleeping in it.
Location
In some places, it's illegal to sleep in your car, so the first ever thing to do before you leave for your exciting destination is to find out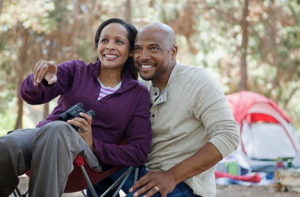 where you can park your car and spend the night safely and legally. There are apps like Hipcamp or AllStays that can help you in this sense, and they can tell you all you need to know about a series of locations (both free and paid) throughout the United States.
Camping Essentials
If you have a van and there's plenty of space in the back, you can definitely sleep in it through the night. But some people aren't as lucky as you might be on this account, and they'll need to set up a tent. There are loads of models made for SUVs, trucks, and other types of automobiles and all you have to do is choose the one that best suits your car model.
We suggest you read more on this so that you have no issues regarding compatibility, the fabrics that the tent is made of, and the number of people it can comfortably accommodate.
Don't forget about the power
You'll need electricity to be able to charge your phone, your tablet, or whatever else you might require on a daily basis, so we suggest charging all of your portable power banks from home. It definitely wouldn't hurt if you also had the convenience of a solar panel on the dashboard, for example.
Always be prepared
As a driver, you need an emergency kit in your car to be able to treat superficial injuries in the event of an accident. However, that's not the only thing you will require, especially if you want to sleep in your car.
Here are some essentials you may have to consider taking with you — a GPS, extra clothing, a repair kit and several tools, extra water and food, as well as an emergency shelter for when you want to set up your tent outdoors.
Don't forget about food
If you have enough room in your car for a cooler, pack some cooked eggs and meats, cheese, and even yogurt or anything you'd prefer. You can keep the veggies outside the cooler for a limited amount of time, of course. Make sure that the temperature inside the cooler is the adequate one, in that it shouldn't put you at risk of endangering your health. The last thing you might want when you're camping would be getting food poisoning.
Staff Writer; Sherry Day