Movie Review; Woman at War.
(Akiit.com) She's a rebel with a cause. An anarchist with a plan. Hard to believe when you look at Halla (Halldóra Geirharðsdóttir), a fiftysomething schoolish-looking choral conductor, that she's subversive beyond your wildest imagination.
Icelandic actor/writer/producer/director Benedikt Erlingsson has a wicked sense of humor, a great feel for the sublime and a real love for the biosphere. His innovative talent is in every frame of this very modern, pro-environment and anti-industrialization parable.
At stake is the future of the pristine Highlands, a largely uninhabited plateau and volcanic desert that covers most of Iceland's interior. Lava, ash, black and brown earth with only a hint of moss green vegetation are covered with ice most of the year but become gorgeous plains in summer. The mesmerizing view is blighted by gigantic electrical transmission towers supporting powerlines. The chief culprit is the aluminum industry which is ramping up business with more towers and development.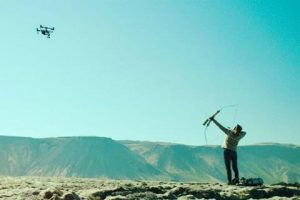 Who can stop this runaway madness and protect the land? This is a job for Superman, Wonder Woman, maybe Black Panther. Or, Iceland can rely on a rogue environmental activist, known as "The Woman of the Mountain."
Halla is that undercover warrior. She's a choir conductor by day. In her off time, she sabotages cable wires, causes blackouts and needles the Icelandic government and corporations that aim to build a new aluminum smelter and further endanger nature. The cops hunt her, but Halla is like a pesky mosquito they can't SWAT. With just a bow and arrow and lots of ingenuity, she outsmarts them, staying one step away from an arrest.
The mischievousness in Benedikt Erlingsson and Ólafur Egill Egilsson's delightful and consistently smirky screenplay never subsides. Halla's brand of uncivil disobedience is endearing enough to catch your attention and make you love her instantly. She shoots arrows like Artemis, Greek goddess of the hunt and daughter of Zeus and Leto. She lies on the ground and hugs the earth like a Woodstock hippie. Halla is more clever and cunning than a fox. Though she's breaking the law, you want her to succeed, for the Highland's sake and your own selfish enjoyment.
With cops on her trail, drones flying over, police checkpoints on roads and guards at the airport there seems to be no escape. Yet somehow Erlingsson makes light of Halla's dire circumstances.
The director films sequences, in town, on the road and over the Highlands. Brooding or honky-tonk music carries you from scene to scene. Then all of the sudden, as Halla walks by, in full view is a music trio (drummer, piano player, tubist) or a threesome of warbling Ukrainian singers dressed in traditional garb. Sometimes Halla acknowledges the Greek chorus. Sometimes not. Audiences will smile, smirk or laugh their asses off at this assault on the fourth wall.
This isn't supposed to happen. Musical scores and their musicians should be heard and not seen. How dare they intrude on the action. But these scene-stealers do. Erlingsson tickles your funny bone while dispensing thoughtful commentary on saving the environment.
Actress Halldóra Geirharðsdóttir never overplays the role of the nerd/pugilist. It's easy to watch her run over volcanic plains, hike up hills and drive a turquoise Volvo laden with explosives. She gets extra points for also portraying the protagonist's sister Ása, an ethereal yoga teacher. Halla's partner in guerrilla eco terrorism is the affable, big belly sheep farmer Sveinbjörn, played with certain charm by Jóhann Siguröarson.
A curious but easy to decipher subplot involves a wandering Latino immigrant named Juan Camillo, wisely played by Juan Camillon Roman Estrada. The character constantly finds himself in the wrong place at the wrong time. As Halla commits a crime, he's there getting scapegoated by the police for what she's done. Just watching him catch hell just for being a foreigner speaks more about the mistreatment of immigrants than a trainload of public service messages.
Bergsteinn Björgúlfsson's cinematography, with its wondrous visions of the Highlands, is a beguiling greeting card from Iceland. The glib musical score by Davíð Þór Jónsson fills in the cracks, never letting the film's droll tone subside. Costume design peaks with Halla's green cardigan sweater with the argyle squares around the neck and shoulder; it makes her look like someone's librarian. Credit Sylvia Dögg, Halldósóttir and Maria Kero for the homey-looking threads.
There are times that some of Halla's last-second escapes seem a bit contrived. Just as you are about to say: "Not another one," the script throws in a subplot wrinkle to keep you guessing.
Woman at War is a funny and delightful message movie that's never preachy. It's immensely clever and always sticking a finger-in-the-eye of the establishment.
Moral of the story: Don't mess with Mother Nature or piss off a choir conductor!
Columnist; Dwight Brown
Official website; http://DwightBrownInk.com