Budget-Friendly Fall Activities.
(Akiit.com) Fall is a great time to spend time outside as a family. The leaves are changing and the hot summer weather is coming to an end. Enjoy the beautiful scenery and some quality family time by trying one of the following budget-friendly, outdoor family activities:
Go Apple Picking
If you live in a region that grows apples, take your family to the orchard. Many apple growers will allow you to pick your own apples. This is a fun family activity that kids really enjoy. Not only will you get some much-needed fresh air, it'll only cost you a bag of apples! Bring home fresh, ripe apples and turn them into pies, applesauce or apple cider.
Take the Family Fishing
Fishing is a fun activity that many families enjoy. While most think that fishing is a summer hobby, it's also a great in the fall. There are many species of fish that can be caught in Autumn. Grab your fishing poles, some bait, and of course, a license if required. All these items are affordable can be bought at your local big box store.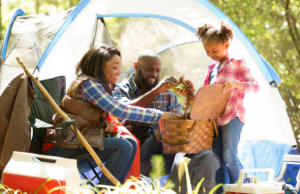 Have a Picnic
Plan an Autumn picnic with family and friends. Most of us live near a local park. These parks are the perfect place for a fall picnic. Bring some finger foods and enjoy it in the great outdoors with your family. Throw in a blanket, Frisbee, soccer ball or deck of cards. To save money, make your food at home instead of buying it from a restaurant.
Go Camping
Camping is a wonderful hobby that can bring joy to the entire family. Camping isn't expensive and allows everyone to disconnect and build stronger bonds. If you have never camped, why not borrow supplies from a friend? You'll need a tent, some camp chairs, and a few sleeping bags. If you rather commit to the hobby and buy your own equipment, consider a fast-online loan that can be refunded over time. This will allow you to get the camping gear you need to camp this fall.
Visit the Farmer's Market
Visiting a local farmer's market is a great activity for both kids and adults. You will find a host of fall-related products, from cookies, cakes and jelly, to hand-made crafts and big orange pumpkins. Most items are highly affordable, fresh, and encourage local farmers.
If you're looking for something fun to do with your family this fall, why not try one of these activities? Lace-up your boots, and throw on your plaid jacket and remember to snap a few pictures along the way.
Staff Writer; Paul Moore