Clever Ways To Grow Your Career At Home.
(Akiit.com) Currently, a lot of people are stuck in their homes, unable to move forward with their careers. They're unable to work too because many businesses simply can not open or operate in this new climate. The coronavirus is causing a lot of issues for businesses and workers alike. It might seem as though there is no way to push your career forward right now. But this is not the case and there are possibilities available to you. So, let's explore some of the best choices that you might want to keep in mind. 
Take An Online Course 
You can think about taking an online course related to the industry or sector that interests you. A lot of people think that online courses are limited to particular subjects. However, this is not the case and you will find that the choices are incredibly diverse. For instance, you can take an HVAC online course and this will be perfect for those who are keen to pursue engineering. Alternatively, you might finally be ready to start up your law degree. The courses available actually are this varied!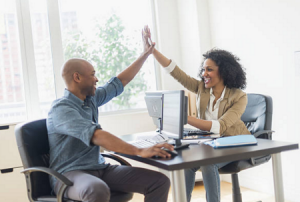 Start Your Own Business 
Alternatively, you could get started with your own business and bring an idea you have had for years to fruition. It's not as difficult as most people assume to get a new business off the ground. All it takes is a little willpower and a lot of confidence in what you can bring to the table. For instance, you might want to think about going into ecommerce. Ecommerce is perhaps one of the easiest options available to you as a new business owner. The trick is finding a product to sell where there is a gap in demand that you can take advantage of. You then need to develop a USP to ensure customers choose you over the competition. 
Gather A Loyal Customer Base
The next thing that we suggest you do is to start to gather a loyal customer base who will stick with you for all the services that you are looking to provide for them. There are a number of ways to do this, and one of them is to start a blog. Make sure that you are keeping it up to date with all the relevant information so people have an idea of what is going on at all times. 
You are also going to need social media pages, and you can advertise your blog on these platforms and vice versa. Using social media helps you to connect to your customers or potential customers by showing them the face behind the business. Interact with them, if they have a problem, try to come up with a solution to help them, and do whatever you can to gain the trust of the public. Through social media and a blog, you'll connect with far more people than you would without it.
We hope that you have found this article helpful, and now see some of the clever ways that you can grow your career at home. Good luck!
Staff Writer; Chris Johnson