A Super Special Graduation.
(Akiit.com) Everybody who has ever graduated from anything knows how special graduation is. If you made it to graduation, not only were you excited about doing something not only you considered important, but the fact that you made it, made a lot of people happy. Friends, relatives– especially your parents — bragged about your being a member of a graduating class. It didn't matter if you were graduating from medical school, law school, undergraduate school, high school or even kindergarten, everybody treated you like royalty. Not only in your eyes, but in theirs, you had achieved a special milestone. Some gave you hugs. Others gave you presents. You really appreciated those who gave you money! I can remember graduating from law school, and one neighbor from the neighborhood in which I grew up sent me a couple of dishtowels! While I wasn't known to be one who spent a lot of time in the kitchen, I cherished those dishtowels. It was the thought that she considered my graduation something special that made me happy to count them as presents!
This year, we had a pretty gloomy Class of 2020 who couldn't think of anything worse than not being able to walk across the stage in that cap and gown, have the college president or school principal shake their hand and celebrate their graduation. I've graduated many times–high school, college, law school, 3 times for doctoral degrees and once for an honorary doctoral degree—but none of that could top what 2020 graduates are getting!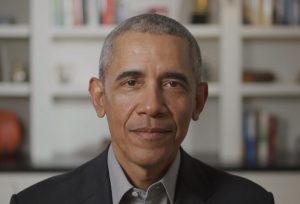 None other than President Barack Obama is going to hold a virtual commencement ceremony for seniors who are graduating nationwide. You can't beat that. This graduation will top all that we've ever seen. Even if we don't have a family member or a friend graduating from any level, I can assure you more people will virtually attend this one than they have for any other speaker. The speaker must be thrilled! I know I'm going to be leaning in for every word whether it's on Skype, Zoom, Face Book, C-Span, YouTube, any of my regularly watched channels or any new method of viewing that may be discovered before graduation!
Just imagine how one person can make a difference. One young person conceived the idea of asking President Obama to do him a favor. Thousands of students agreed, and the best President ever responded with a confirmation. Does that prove that just having the audacity to ask can sometimes get you what you ask for? I was so excited when I heard B.O. was going to honor graduates with what I know will be a memorable message. You would think I was graduating from something! I have no doubt about his delivering a message that will last the graduates a lifetime.
Not only will the graduates have B.O. but I understand M.O. will be joining the celebration for several events honoring the class of 2020 as part of a #GraduateTogether2020 special. That event on Saturday, May 16, 2020, 2 PM ET is scheduled to honor students at historically Black colleges and universities after which there is to be a virtual commencement for high school seniors the same day at 8 PM ET. As if that is not enough, another address to the class of 2020 will take place on June 6, 2020 at 3 PM ET! In typical Obama style no one will be left out!
Our nation needs that special hope that both Michelle and Barack know how to give. Nobody can do it the way they do, and every day I hear someone say, "I sure do miss them." Keep your ears open for details.
Columnist; Dr. E. Faye Williams
Official website; http://www.efayewilliams.com/