President Donald Trump Should Use Reagan Model on Global Leadership to Fight Coronavirus.
(Akiit.com) As usual, the world is looking to the United States for leadership on how to respond globally to the coronavirus. At home, Americans recognize that our country will continue to be vulnerable until the virus stops spreading throughout the world. From the post-World War II Marshall Plan to President George W. Bush's PEPFAR to fight Aids in Africa, the United States has been a leader in providing aid to nations in the wake of a military or health crisis.  Right now, President Donald J. Trump has a unique opportunity to take the pre-eminent leadership role in fighting the coronavirus globally.
The Trump Administration has already done much that goes unnoticed. CNN reported on April 22, 2020, "Secretary of State Mike Pompeo announced more than $270 million in additional foreign assistance being provided in humanitarian aid and government assistance from the US to countries that need help responding to the Covid-19 outbreak. This is part of the emergency supplemental funding provided by Congress for the pandemic – which totals $2.4 billion."  The State Department announced on May 20, 2020, "At President Trump's direction, and through the generosity of the American people, the United States has continued to demonstrate its global leadership in public health and humanitarian assistance in the face of the COVID-19 pandemic" including "more than $1.2 billion in State Department and U.S. Agency for International Development (USAID) emergency health, humanitarian, economic, and development assistance specifically aimed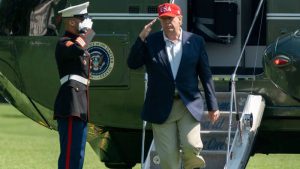 at helping governments, international organizations, and non-governmental organizations (NGOs) fight the pandemic."  The purpose of his funding is to help out the 120 nations that are in need of help with healthcare functions, like labs, data collection and rapid response efforts.
Central to the efforts is the need to look beyond traditional humanitarian aid channels for new opportunities to deliver better results through direct, efficient funding of frontline non-government organizations (NGOs). America is leading and can reignite American global leadership by ramping up aid to NGOs during this worldwide pandemic.
The model used by President Ronald Reagan, in the 1980s, when a catastrophic famine struck Sub-Saharan Africa, called for an increase in humanitarian aid for the first time since WWII, while simultaneously cutting the overall budget. Similar to today where President Trump is going to need to find cuts to pay for the Herculean efforts to respond to the coronavirus, Reagan proposed an extra $411 million on food aid for Africa to respond to an extreme hunger and malnutrition situation that was devastating about 14 million people in Sub Saharan Africa. The Reagan model is to surge aid in times of need while eliminating unnecessary spending.
President George W. Bush responded to a worldwide HIV/AIDS epidemic with a plan tilted the U.S. President's Emergency Plan for AIDS Relief (PEPFAR). That plan put tens of billions into 50 countries to prevent infections and deal with outcomes. Republican Presidents have taken the lead in providing aid to other nations in a way that shows leadership and displaces non-democratic nations like China and Russia from replacing the U.S. as the world leader in helping out nations in need.
Direct funding for NGOs makes sense during his unique time. U.S. NGOs' work with local partners, together with local governments and local organizations, were on the frontlines of the global Ebola response. These NGOs have a ground-level understanding of which solutions are needed and work.  Unlike the politicized organizations like the World Health Organization (WHO) direct aid to NGOs will circumvent international bureaucrats using cash for overhead and pet projects that have nothing to do with the coronavirus pandemic. NGOs know how to scale responses quickly and efficiently and that makes them especially attractive partners in a moment when we need to move fast while still being good stewards of taxpayer dollars.  Right now, NGOs are being starved for resources with bureaucratic red tape.
Bureaucracy should not impede progress in the fight against the virus. While billions have been authorized and appropriated, less than 10% is out the door and in the hands of those who can help on the international stage. Delay could create an even bigger crisis. We live in a world where a crisis in Africa or Asia will likely come right back to the United States, therefore action needs to be taken now.
The Reagan model would dictate to get aid to the people who need it quickly and effectively. Direct funding for NGOs will be effective, efficient and transparent that will result in the aid getting right to the groups that are fighting it on the ground and not funneled through an opaque bureaucratic process that slows action.
Columnist; Steve Sherman
Official website; http://www.writeonsherm.com