Why Not Pursue a Career in the Medical Field?
(Akiit.com) Right now, increasing numbers of people are looking for a new career. The coronavirus pandemic has made the vast majority of industries and fields of specialism pretty unstable when it comes to job security. Countless companies have collapsed and even more people have lost their work, as many companies have been unable to survive the pandemic. Social distancing and social isolation measures have made it pretty difficult for most professionals to function. But this simply means that you might want to look into a field that will always have demand. Healthcare is always one of these fields, especially in times of crisis right now. Now, there are countless areas of healthcare that you can go into, but chances are you're going to have to study to enter any of them. Here are a few degrees you might want to look into for different roles.
Healthcare Degrees
The first type of degree you could pursue is a healthcare degree. This is a less hands on role within the medical field, so may be better for those of us who don't want direct physical contact with diagnosing and treating patients. Instead, you can help people by taking care of things like checking patients in, retrieving medical records and more. You can see more information here about this. This is the ideal path for someone interested in more administrative roles within the medical field.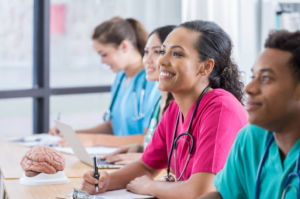 Nursing Degrees
Another option is to complete a nursing degree. This will give you the essential skills and qualifications to become a qualified and registered nurse within a surgery, hospital or other healthcare facility. This type of course will teach you everything you need to know about nursing over the course of three to four years (full time study). You will learn how to take blood, dose medication and take care of IV lines. Plus, there will be theoretical work involved. This is a great option for those who want to get into healthcare but don't want the extremely long study involved to become a doctor or surgeon.
Medical Degrees
If you do want to be a doctor or surgeon, and you're prepared and committed to complete a full medical degree of six to seven years, you should look into medical degrees. These courses are intense, but they need to be. After all, you're going to find yourself in a high responsibility role, actually diagnosing and treating patients. You will gain a full and in-depth understanding of the human body and countless conditions. As time goes on, you will specialise and enter a specific area of medicine. This will be a well paid and highly rewarding role, as you could find yourself quite literally saving lives on a daily basis.
These, of course, are just a few roles in the medical field that you might be interested in. Take a look at all of the options available to you and make sure you're fully committed to the role before applying to study. This will be a long journey, but it will be worth it and you'll have a truly stable career at the end!
Staff Writer; Roy Adams