Want to Start a Hospitality Business? Here's How you Do That.
(Akiit.com) The hospitality sector is easily one of the most popular industries for a new business. Every year, thousands of start-ups are launched in hopes of achieving success. If you want to make sure that you have the highest chance of success then this guide will help you to find out everything you need to know.
Get the Right Structure
Setting up a business will involve you making a ton of important decisions at a very early stage. It doesn't matter whether you decide to opt for a limited company, a partnership or even a sole-trader business because every type of structure will ultimately determine the type of benefits you get in the future. If you want to start a business in the hospitality or food industry then it may be worth looking into the statistics that are out there so you can then gain a better understanding of the type of businesses that are out there and the success they have achieved.
Organise your Investment
Every new business will require some type of investment. Hospitality ventures really are no different. There are a number of sources available when it comes to funding your business. You have personal savings loans from financial companies or even third-party investors. When it comes to taking funds from third-parties, you have to make sure that you detail the terms of your funding so that you can make sure that your business is going to run as smoothly as possible.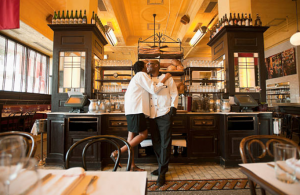 Plan your Tech Strategy
In this day and age, any new venture will rely on social media and tech. It doesn't matter whether you make the decision to run a hotel or a restaurant because you have to make sure that you have a full strategy developed so that you can take advantage of the possibilities that are available to you through marketing. You have review sites, deal and discounts or even social media. Cybersecurity is of course, important if you are going to explore options such as this, so make sure that you keep that in mind as much as possible.
Branding
Branding is vital if you want to try and capitalise on the amount of benefits that are available.  You need to make sure that you are registering your brand as soon as possible as this will stop other people from trying to steal it. Take the time to get your branding right and also make sure that you are not going stale with your image in general. If you do this, then you will soon find that you're able to come out on top.
Property Licenses
Finding the best location for your business is crucial. You have to make sure that you have all of the right permits and that you are also in the right location. If you don't, then this may go on to affect your business in the future and this is the last thing that you need. If you need some help with your licensing, then contact your local business authority.
Staff Writer; Carl Jackson