The Mysterious Unpopularity of Vice President Kamala Harris.
(Akiit.com) Vice President Kamala Harris spent over $500 on cookware at a fancy store during her diplomatic visit to Paris.
I'll pause here to give you time to pick yourself up off the floor. It's a major shock to learn that someone with a net worth of $7 million would do a little shopping on a trip abroad. I assumed Harris would pack a well-worn copy of "Europe on $30 a Day" and bunk in hostels. But no.
Fox News noted that Harris went on this extravagant spree even as "Americans at home continued to deal with the harsh realities of rising inflation and costs across the board." The conservative Washington Free Beacon noted that the money she spent "could have been used to buy at least 25 16-pound turkeys for families in need."
It didn't mention that the expense was far less than the $214,000 she and her husband made in charitable contributions between 2014 and 2019. It omitted that her husband, Doug Emhoff, gave up a lucrative law practice to avoid any conflicts of interest.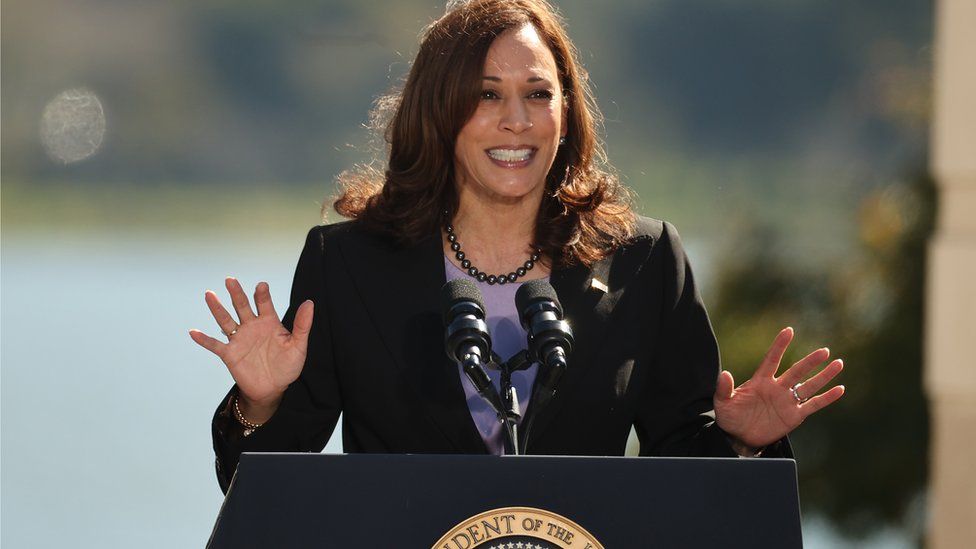 In making purchases during this time of inflation and uncertainty, Harris happens to be in step with her constituents. The National Retail Federation projects that retail sales in November and December would jump by as much as 10.5% over the previous year. Consumers may be feeling flush because new unemployment claims are at their lowest level since 1969.
But the veep is a favorite villain of right-wing media, and their persistent sniping has taken a toll. Recent polls indicate that 52% of Americans have an unfavorable opinion of her, with only 41% expressing a positive view. That makes her more unpopular at this stage of a new administration than any of her four immediate predecessors.
Why she has turned people off is a puzzle. Americans haven't gotten sick of her because of overexposure. Harris has mostly stayed out of sight. The Paris journey was one of her few major public forays, and it was a tightly scripted goodwill trip.
She has made some noticeable missteps, such as bungling a question last June about why she hadn't visited the U.S.-Mexico border as part of her assignment to address the causes of the migrant crisis. A recent CNN story also alleged "entrenched dysfunction and lack of focus" in her office. But it's safe to assume that most Americans don't obsess over where there is adequate focus in the vice president's workplace.
Harris has somehow become a villain not only to the right but to the left. Conservatives regard her as a dangerous San Francisco socialist. Progressives, however, criticized her during the primaries for what they saw as her harsh record as a prosecutor. They were sorely disappointed when Joe Biden chose Harris as his running mate.
What accounts for her unfavorable reputation? After all, she's a refreshing contrast to Mike Pence. She doesn't grovel before her boss; she doesn't deliver speeches in a tone of ponderous sanctimony; and she exhibits a winning smile and a lively personality.
Unlike some previous vice presidents, she hasn't been deployed as an attack dog for the president. She hasn't stumbled into a scandal.
For progressives, however, she's just part of a White House that has been too indulgent of Democratic centrists such as Sen. Joe Manchin of West Virginia and Sen. Kyrsten Sinema of Arizona. Harris has done nothing to endear herself with the left wing of the party.
Republicans, of course, see her as an accomplice in a hopelessly liberal administration. But the same was true of Biden when he was vice president — and he never evoked strong loathing among conservatives, despite their demonization of his boss, President Barack Obama.
What makes Harris the target of so much animus are the same things that make her stand out. The first woman to be vice president is also the first Black and Asian American. What she believes is not nearly as important as what she represents: the growing political and cultural power of women and people of color.
Race was a big underlying reason why Obama roused such hostility, whether his detractors realized it or not. Gender was a big reason Hillary Clinton was so vilified in some quarters. Harris has inherited some of their friends but all of their enemies.
The vice president is a normal politician with a normal complement of faults and errors. But she's also a pioneer. And one person's pioneer is another person's invader.
Columnist; Steve Chapman
Official website; http://Twitter.com/SteveChapman13