Over 60 years of Black is Beautiful.
(Akiit.com) Don't be surprised to see a lot of tributes going on this year to pay homage to the "60 year anniversary" of the Black is Beautiful Movement.
Cultural Caravan is releasing a documentary in February called "AJASS, Pioneers of the Black is Beautiful Movement," produced by Louise Dente. In the February 2022 issue of Essence magazine Lilly Workneh has a four-page story entitled, "The Rise of the Black is Beautiful Revolution." Also on Feb. 3 the Brooklyn Public Library & Center for Brooklyn History had a one-hour discussion with several of the original octogenarians who were part of this first show hosted by Peter "Souleo" Wright.
We can thank the African Jazz Art Society and Studio (AJASS) for debuting The Grandassa Models on Jan. 28, 1962 at the Purple Manor in Harlem. That was the day in which a group of beautiful Black women adorned a Harlem stage in front of hundreds, bragging and showcasing their natural beauty. These women captured our fascination with a new paradigm for modeling and beauty, which in turn catapulted the Black is Beautiful Movement.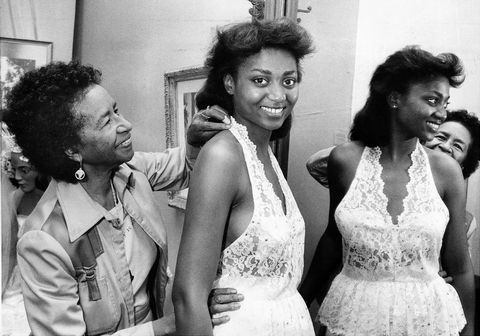 In the book "The Artistic Activism of Elombe Brath," historian Thomas Aiello documents the need for different fashion shows citing a story via Amsterdam News in the early 1960s. He cites Brath's writing in promotional materials for the fashion shows. "We feel that our race has reached a new low point, in racial integrity, and its highest point in ridicule," he explained, "so we have designed a show, which we believe reflects favorably upon our pride and beauty." Aiello writes that he and those who worked with him wanted to restore pride in natural Blackness as an antidote to media teachings that physical features associated with Blackness were to be hated. "Slowly but surely, we will restore dignity to the words Kinky, wooly, nappy and most of all the word BLACK."
Most doubt that AJASS could have had the success and appeal of their universal messages without the incorporation of the Grandassa Models into the theme and fabric of what they were doing.
However before the Grandassa Models could be staged for success, battles were being waged in the media laying the groundwork for the promotion of Black beauty. Brath used his pen and his two satirical comic strips at the Citizen Call newspaper (now defunct) to highlight and ridicule those who didn't conform to the notion and challenged opposing voices to the narrative.
Sometimes the campaign of promoting Black is Beautiful led to big conflicts with prominent personalities on a national stage. In fact Jonathan Eig documents this in his 2017 book called "Ali, A Life." Eig showcases how Brath challenged and belittled a young Cassius Clay (Muhammad Ali) in the editorial pages of the Chicago Defender for his strategy of disparaging jokes and mocking of Black fighters' physiognomy. At the time the Defender was the most popular newspaper for people of African descent. In short the message was dynamic and far-reaching. AJASS used a multi-faceted approach to promote the Black is Beautiful movement.
History must understand that Grandassa models were the turbo engine to an existing car, already moving but just not as fast.
Columnist; Cinque Brath