Ten Things Black People MUST Know This Holiday Season.
(Akiit.com) As quick as Halloween ended was just as fast as the Christmas season seemed to have kicked into high gear. From the Starbucks holiday cup controversy to premature Christmas tree displays, this is where we are. And as some of us grinches reluctantly get dragged kicking and screaming into the holiday cheer, I was called upon to construct a list of the 10 Things Black People MUST Know This Holiday Season. And before you even ask "why Black people?" that's because that's what I am. It's all in good fun.
10. Santa Is "Real" …. And he's "Black" Too!!!
Maybe it's The Obama Effect. Or maybe it's just pandering and capitalism at play but little tykes don't only have to resort to sitting on the knee of an alabaster St. Nick when visiting shopping centers with their money spending parents anymore. According to the Associated Press, a growing trend of ethnic Santa Clauses are getting underway across the country. There's one, quite popular, in Atlanta (of course!) who refers to himself as "Real Black Santa." And I'm just learning about this fascinating festive folly.
9. The stuff our favorite 'Milkshake' maker is serving up nowadays won't give you brain freeze.
The former chart-topping singer/songwriter Kelis has traded in her brazen pop star persona for something a little more domesticated. The Harlem native (and ex-wife of rap deity Nas) already produced an album entitled 'FOOD' last year, which apparently have served as an appetizer to her latest offering: a cookbook titled 'My Life On A Plate: Recipes From Around The World,' which is a collection of her favorite dishes she created after discovering them on her travels around the world such as Malay Curry Chicken and Swedish Meatballs. If you want to bring something new to the table, why not use Kelis as some inspiration? Nas did (with her wedding gown on his last album cover). And since she's a graduate of the prestigious Le Cordon Bleu, the 'Bossy' singer can't be much of a slouch in the kitchen.
8. That "Black Friday" business is for the birds — and donkeys.
It only takes one time, I tell ya. A few years back I ventured out to a Black Friday sale at 4am in the morning at a Radio Shack in a very rural area. Only 10 people were in front of me and by the time they opened the doors at 5am, only about 20 more were standing in line behind me. Before we even entered the store, an employee came out and informed us that they only had limited quantities of all the items on sale. Since there was already 10 people in front of me, I surely wasn't getting any of the desired products (discounted laptops and bargain basement flat screens). And after all of the hullabaloo, I walked out with a navigation system, which was marked down half price. I already had a pretty reliable model but had to get something new and shiny. Didn't need it, but got it. Got home all excited and downloaded the software, caught a virus in the computer I was using and the system never worked. I felt like a complete imbecile because I wasted time, energy and money on something I did not need. Or really want. I had my eyes set on that that $150 netbook. The lesson here: time is not a renewable resource folks so use it wisely. Nothing these stores are shilling is worth the trouble, especially when it's a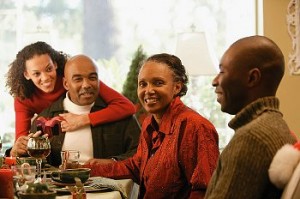 stamped to get something that you don't need. It's not worth dying or breaking your neck for. Trust me. And in a mad dash for the cash, some retailers are opening again on Thanksgiving. I'd rather let my fingers do the talking and shop online in my pajamas. The thrill is totally gone.
7. Apple, Schmapple!!!
Yeah, yeah, yeah: as much as we like Apple products, do we really need that Apple Watch when we already have a MacBook Pro, an iPhone and an iPad? I mean how much money can we give these people, people? I thought the whole point of having a smart phone was so we didn't have to wear clunky or delicate timepieces. Do you even know how much it cost to fix that thing if it breaks? You do know it's going to break right? And if you have a warranty, you still have to go to one of their "stores" and "spend" time waiting to get it diagnosed and repaired. I don't think so. I'm still in a tailspin that they've virtually done away with Ipods, which I think was the best product they ever made. "Time won't give me time…." as the old Culture Club song goes.
6. Wearing Drake out seemed like a good idea.
Tis' the season — to be daring and wear that loud, colorful, busy-patterned clunky sweater you have in your closet for festive gatherings and office Christmas parties. But to hell with the Christmas trees and reindeer; Drake is in the building. The platinum-selling 'Started From The Bottom' rapper's likeness from his ubiquitous 'Hotline Bling' music video has found itself on an "Ugly Christmas Sweater," which really a sweatshirt designed to look like a knit sweater and being sold at online for $25. I think it's brill. Unfortunately, it's become such a hot ticket item that it is sold out everywhere. Or perhaps it was subject of a copyright infringement lawsuit. Be on the look out for what I think could be the best conversation piece of the season. And you can just Thank Me Later.
5. Support The Sisters
Finding unique gifts can always be a challenge especially since we live in such a capitalist society of mass consumption where nothing seems special. A close friend of mine recently turned me on to something that I think is such a useful utility for ideas; a website that curated a list of 75 Black-Woman Owned Brands to Support This Holiday Season & Beyond. It's worth checking out.
4. If you can't pronounce it, don't buy it.
As adventurous as we may want to be, do not use the big day fussing and fighting with those trendy and peculiarly titled hybrid concepts like TurDucken and Tofurky. Yes, I love Turkey, Duck (of the Peking persuasion) and Chicken — I even like Tofu. But all mixed together? No sir!!! I remember a couple of years ago — not wanting to deal with thawing and brining and the spending hours of cooking the omnipresent Butterball, I considered TurDucken. After closer inspection of the package, I opted out. Quick, fast and in a hurry, too! It just didn't look that delectable and seemed to be more trouble than it was worth. If you know food as I do, you know that each of the birds have different textures that most likely wont be that appetizing with them mechanically blended together — no mater how much gravy you put on them? And then you have to ask yourself, what kind of gravy do you put on TurDucken? And the idea of a Tofu turkey defeats the purpose of eating it all together — no disrespect to the vegans. If you're a meat eater, it's only once a year so why not just go all in. And besides, POPEYE'S actually sells Cajun turkeys for about $40. Yes, the Louisiana-based fried chicken chain. I've tried it and it was life changing. I literally set it and forgot it — and had no complaints. It was like having a turkey catered. And NOTHING is better than having a turkey cooked by someone else.
3. Be A Great Guest
Don't get beside yourself when invited to be someone's guest for a holiday meal. Just because it's the season of "giving" doesn't necessarily mean that you have to take people, places and things for granted. If someone is courteous enough to invite YOU to their festivities, that means only YOU — unless otherwise specified. And this is coming from a "Plus One Kingpin," too. (It ain't no fun unless my homies have some.) Furthermore, if you're going to someone's home please remember: 1) Dress appropriately for the event. Festive is good but don't get too gussied up for dinner. If they wanted Nicki Minaj, they would've invited her. 2) Don't come empty handed. Even if you're not gifted in the gift-giving department, spring for some nice seasonal flowers and/or a bottle of wine. (And not from the supermarket either. Put some thought into it.) 3) Once there, do not eat and drink like you've never eaten or drank before. And don't you dare bring empty plastic containers to fill up with leftovers to take home. And y'all know who I'm talking about.
2. Do away with the "naughty" and go for the "nice."
I have been invited to corporate holiday parties where I saw the head of a division dancing on top of the bar and wrapping themselves around a pole, being a sloppy drunk. That's something I could not unsee. It's always great when your boss is a down-to-earth, but seeing someone who has to lead business meetings and broker deals in the days after getting loose like a bucket of juice could make for a very awkward work environment. That goes for all professionals in the workplace. Don't think for one moment that everyone is getting high and frisky during holiday parties. Some people are just watching and making mental notes. I know I am.
1. The one thing that will surely get you through the season is the new holiday album of the year. A star-studded stocking stuffer, titled 'A Classic Holiday … Presented by MBK,' the collection offers a range of contemporary R&B, pop, traditional soul, gospel and jazz-infused songs from superstars such as Alicia Keys, Tyrese and Brandy; talented singers: Coko (of SWV), Gabi Wilson, Elle Varner, B. Slade (formerly known as Tonex), Justine Skye; and emerging artists: Daisha, Alex, Anaysha and Livré (pronounced LIV-RAY). Stand-out tracks include: Gabi Wilson's poignant rendition of the beloved classic, "Have Yourself A Merry Little Christmas,"; newcomer Alex's retro-soul delivery of "Please Come Home For Christmas" and B. Slade's riveting gospel mash-up, "Make Me Over/Total Praise" capturing the spirit and reverence of the holiday. I have hundreds of Christmas CDs (yes, CDs) and this is the perfect new addition to my collection — even on Spotify too.
Columnist; Karu F. Daniels
Official website; http://twitter.com/tontokaru