Are Your Kids Good At Sports? 5 Team Games They Should Be Trying.
(Akiit.com) Children naturally love being active when they're small. Soon after starting school, you may notice that your child has continued to invest his energies into sports. Team sports and games are very important for your child's development. They teach essential social skills and teamwork. And best of all, they help to keep your child active and interested in sports for life.
Kids have regular exposure to several different sports when they attend school. Not all children are good at or even interested in sports. However, there is a sport for everyone. What will yours be?
Baseball
There is an element of strategy involved in Baseball that can help kids learn to make calculated risks. What each child does on the field could affect each of the other teammates. There are lots of different actions involved with Baseball too. Batting, pitching, running, catching and throwing activities can all be improved while the kids play. Best of all, there is a chance for your child to specialize in one of these areas. If you look at websites like http://baseballcoaching.tips/baseball-terms-how-well-do-you-know-the-language-of-baseball/ you can find out more about what your kids could learn by playing baseball.
Football
Football is another popular team sport that kids often get to pla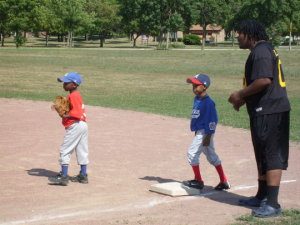 y in school. This sport is sometimes reserved for when the children are a little older and bigger as it is quite a physically demanding game. However, there are plenty of things even the tiniest of tots can do to prepare for playing football. Running, throwing and catching can all be practiced at home. Use a smaller, softer ball at first to avoid accidents.
Basketball
Handling a ball with skill takes a lot of practice. Basketball is a very physically demanding sport. The rapid pace requires a great level of focus and awareness of your surroundings. The idea is for each team member to make themselves available to the player with the ball. This kind of cooperation is great for many life situations your kids may encounter. Basketball is ideal indoors or outdoors. Shorter nets can make basketball fun for little ones too.
Soccer
Soccer has become more popular with small children in school as it is a non-contact sport. Learning to manipulate a ball with just your feet is quite challenging. It requires focus and physical skill. As a team sport, it gives the kids a chance to work together to score goals. Many school games are set up to make sure every child gets a touch of the ball. This helps to ensure each child has an equal chance to develop their ball skills. And it means everyone has to work together as a team.
Racket Sports
Pairs or doubles tennis, squash, or badminton require good communication skills and team spirit for success. Small children may start with soft or short tennis indoors. Tennis is usually a summer sport, so this smaller version of it means kids can keep their skills all year round.
There is a sport for everyone. But team sports offer so much more than just a great workout. What sport does your child love?
Staff Writer; Terry Poole