Golf: Easier Than You Think?
(Akiit.com) We all know that golf is a game of skill. Enjoyed by millions of us around the world, it's one of the most popular sports that we enjoy in our leisure time. Compared to some sports, golf is perhaps one of the easiest ones for beginners to learn. However, some folks believe that golf isn't a sport that you could easily "pick up" as it were.
In reality, learning to play golf is easier than you might think. Sure, as with all sports there are some rules that you must follow. But, you don't need to spend months or even years reciting them! All you really need to know is how to pick up a stick made of metal and swing it!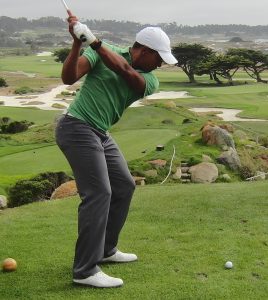 One of the biggest draws of golf is that you can learn how to play at your own pace. There is no pressure to get up to speed by a certain point in time, nor do you have to learn with a group of other people. With golf, it's possible to learn alone or with an instructor at a pace to suit your needs.
So, how can you get start learning to play golf? The following will give you an insight into how one learns about the game and improves their swing:
Invest in the right equipment
While most golf clubs and courses allow you to rent equipment, it makes sense to buy a set of clubs and other gear. First of all, you won't have to worry about used clubs giving you a negative swing bias. And, second, you can take them with you wherever you go – even if you fly abroad on a golfing vacation!
There are many different brands of golf clubs that you can consider such as Callaway, Ping, and TaylorMade. Aside from checking out online reviews of them, be sure to try some out in person. That way, you can make an informed choice before you spend any money.
You will also need some other golfing equipment. Below are the most common items you'll need, along with brand examples to get you started:
Tees (Pride Professional MINI);

Balls (Callaway Golf Warbird Plus);

Bag for your golf clubs (Nike Golf Retro III);

Range finding device (

Garmin golf GPS

);

Gloves (Titleist PermaSoft);

Golf club cleaner (Masters Golf Optimiser).
Aside from those items, you should also consider investing in some suitable attire for playing golf.
Join a local golf course and hire a coach
You don't need to travel afar to learn how to play golf! Once you've got the right golfing gear, it's time to sign up with a local course. When you do that, you can then start by practicing your swings.
It's also worth hiring a coach to help you with your aim and give you pointers on the best types of clubs to use in any particular situation.
Buy a golf training app for your smartphone
Thanks to the wonders of technology, you can now download a training app for your iPhone or Android handset. The benefit of that is you can watch practice videos and tutorials, and try them out while you're at your local golf course.
Such apps will also talk you through the basic rules of golf and the terminology you need to understand.
Good luck!
Staff Writer; Gary Jones