Top Tips For Buying a New (To You) Car.
(Akiit.com) Cars can be an expensive luxury, and it's even worse if you're not a great negotiator and end up forking out a lot more than you had hoped. If you are looking to save some money on this big purchase, then look no further.

Have a think about how new you really want the car to be? Do you need something a few years old? Have kids and need ISOFIX fittings in the car? What about simple things like electric windows? You might be surprised just how much you get used to the small stuff. Even a car that is a few years old will be much cheaper to buy and run than its newer counterpart.

When first looking for a car it is tempting to hit the same old lots. However, you can get a fantastic deal on a truck by checking out some auctions found here.
Believe it or not, there are actually better times of the year to buy a used car. Dealers have targets to meet, and to achieve them, they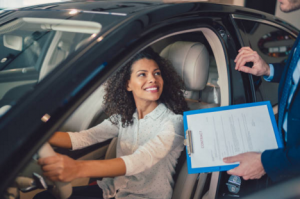 will cut you a fantastic deal on the vehicle of your dreams – if you turn up close that end of that quarter. Typically that will be March, June, September, and December. Avoiding weekends means that you will be able to have a good chat with the salesperson on duty. If there are a lot of people willing to part with cash, they have no reason to focus on a hard haggler. Aim to head to a lot early on in the final month of the quarter, on a Tuesday.

Don't be afraid to haggle. Think of every single price on a car, as the starting point. Once you have narrowed down the type of car you want, you should now print a price list of the same car in the local area. When you turn up, show them the lowest price you have for the same vehicle. Obviously, if they are the lowest price, it's not going to work. So then aim for something for free. A more extended warranty, free delivery, half a tank of petrol… Anything thrown on top is a good deal.

When it comes to buying cars, there is no real way to know how it is going to perform till you've had more than a 5-minute test drive. Even the newest of cars can be a little quirky from time to time. But here are a few things you should check out when you arrive to see the car:

Test the radio – including andy USB or AUX ports.
Check all of the lights – don't be afraid to head to google to get a manual up to find the right buttons or knobs.
Overall condition – signs of rust, painted over cracks, dents? Are there any significant gaps between panels?
Check the oil – using the dipstick as usual.
Check the mileage
Check tires – tread and inflation. Pay close attention for any nails etc

Trust your instincts. Most of the time you can get a good sense of if a car is going to be okay for you, just by sitting in the driver's seat for a few minutes.

Staff Writer; Terry Brown