Seemingly Counterintuitive Ways To Boost Productivity In Business.
(Akiit.com) Businesses everywhere are always looking for new ways to increase the productivity and efficiency of their processes and workforce. Unfortunately, figuring out exactly how to do this is often easier said than done. While there are a few obvious ways to keep your company running smoothly, for the best effects, you need to think a little more outside the box. With that in mind, here are six seemingly counterintuitive ways to boost productivity in your small business.
Try Not To Multitask
To multitask means doing more than one thing at once, and, although this may seem like the most productive way to get work done, it actually is the exact opposite. The reason for this is that the brain struggles to focus on more than one task at once, which can cause you to slow down and make mistakes. For this reason, you should ensure everyone focuses on one job at a time.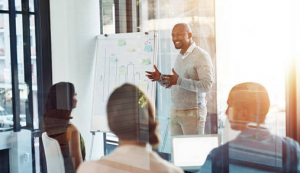 Minimize The Team Meetings
Regular team meetings are a great way to keep your employees updated on current projects and ensure that everyone remains on task. However, if you go into your meetings with no idea of what you're going to say, then, chances are, you're going to waste time. To prevent this, you should limit your number of meetings each week and follow a plan when you do have one.
Make Your Equipment Mobile
Wanting all of your employees in one place is understandable, but it isn't the most productive idea. After all, many team members will work better in different environments. To make this possible, you should invest in mobile equipment, like laptops, and add a caster to the legs of certain pieces of furniture. This way, employees can move as and when they feel the need to.
Take Advantage Of Technology
We live in a technologically-dominated time, and, although most believe this constant presence of tech to be a distraction, it can actually increase productivity in the right hands. Rather than have employees waste their time on repetitive tasks, you could use automotive software to handle the work. You can also order online, hire freelancers, and so much more.
Allow Employees To Telecommute
You don't need to watch your employees every minute of the working day to keep them productive. In fact, many work harder when they see that you trust them to work alone. Because of this, you should consider allowing your employees to telecommute. As well as the productivity benefits, this also helps to save your company money and creates a much happier workforce.
Find Time For Fun
Miserable people aren't productive people, so it benefits you in no way to work yourself and your employees to this point. Instead, you should ensure everyone takes regular breaks and find ways to have some fun. You could plan team building exercises, take everyone out for dinner, or something entirely different. This also shows your appreciation, which is crucial too.
Sometimes, the best ways to boost productivity in business aren't always the most obvious. Hopefully, with the advice above, you'll have a more productive and efficient company in no time at all.
Staff Writer; George Ford