Automation Is The Answer To Agriculture Business Hassles.
(Akiit.com) Farming is big business in the US with over 70 billion dollars come in from growing crops alone, and 2 million farms plus covering the country. However, farming is a notoriously hard lifestyle, one that can be hard physically and well as financially. Happily, that looks as if it's all about to change with the introduction of automated practices. Something you can read more about below.
Management
Before we get onto the nuts and bolts of farming in the field or ranch, it's important to note that automation has application elsewhere. In particular, automating your office administrative procedures such as invoicing, accounts, and even marketing can save you a lot of time, as well as making things much more productive.
What this means is that you have more significant time to spend on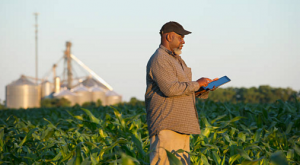 the fundamental aspects of your agriculture business, rather than being stuck behind a desk. Oh, and you won't have to do all-nighters to get your invoices, orders, or payments sorted either. Something that most farmers will be grateful for, as sleep in this industry is already something of a limited resource!
Resources
Talking of resources, your farm will need them to run. Whether it's food for the cattle, pesticides for the crops, or even fuel to keep your machines running.
Happily, automation can make a difference in this area as well, because if you swap to a subscription and auto-replace format, something that suppliers like rivercountry.coop can offer, you can save a great deal of time. After all, you won't have to worry about checking resource levels or arranging your next delivery, giving you more liberty to focus on the other crucial elements of your farm's success.
Process
Automating functional processes within an agribusiness is not something that is new to most farmers, especially if they are concerned with volume yields.
However, by continuing to automate parts of the physical processes involved in farming you can significantly reduce the time and effort a task takes.
What this then means is that crucial tasks such as harvesting and sorting crops can be completed in a much shorter time by adopting more automated and rationalized processes. Something you can read more about how to do at avepoint.com.
Something that not only ensures that you meet your deadlines more frequently but can also lead to the liberation of additional resources that can be directed into growing a secondary crop.  A method of working that many farmers are using to boost the long-term viability of their agribusiness.
Equipment
Lastly, something that has enormous potential for completely revolutionizing the way that we farm in the US, and making it much less labor intensive in the automation of farming equipment.
Increased automation is the future of farming.
In fact, this goes beyond the current state of affairs where we use machines to harvest, feed or help herd, in tandem with human presence. The reason being that , as you can see at cnbc.com robots and tech advances will now allow these tasks to become fully automated.
That means no going out in the fields, no herding the cows in for feeding, and no setting up each individual pumps with the right fertilizers and pesticides. Instead, drones and automated system can be used to direct and disseminate your resources in the correct place, revolutionizing farming and the physical toll it takes on those that choose it as their primary method of making an income.
Staff Writer; Jerry Parker