Adrenaline Rush: Trips of A Lifetime.
(Akiit.com) Travel is all about discovering new adventures and places. We seek out experiences to help us grow and understand the world around us. Sometimes to relax and find peace, sometimes to get our blood pumping and find new ways to feed our hunger for an adrenaline rush. 
You don't always have to travel far to find the best adventures, but some activities are best experienced in remote or challenging environments. 
While fishing may not be a sport you associate with a surge of adrenalin, deep-sea fishing is another level. This is a sport that anyone can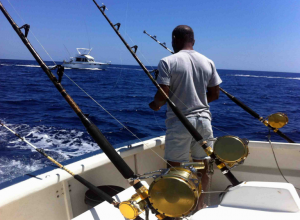 enjoy but demands a lot of strength and skill to secure the catch. It's also fun to watch and be around. It can be quite dramatic as the catch can go on for hours, and there is no guarantee you will be successful. You also don't know what monster fish is going to appear when you finally do reel it in. 
One of the most beautiful areas to try it is the Northern Gulf of Mexico. The fertile crescent is ideal for discovering this fantastic sport and being at one with the sea! 
Surfing has been enjoyed by people all across the world. It can be incredibly relaxing one minute and then extremely intense. The most famous beaches around the globe are often full of surfers and their friends enjoying their weekends and making the most of big waves, and this can mean you are fighting for a wave and miss out on some great action. If you travel to New Zealand, you could try out Heli-Surfing. Two high adrenaline adventures in one. Don't worry, though, the helicopter is only involved in locating difficult to access beaches where the very best surf can be discovered. After picking your spot by air, you'll land and have a whole day of sun, sand and sea to yourself! 
If oceans aren't your thing, then you could consider taking sky diving to the next level. One of the best things about free falling is the moment you pull your shoot, and that intense free fall becomes a more relaxed float, allowing you time to appreciate the stunning views we usually don't get to see. The ultimate skydive has to be in Antarctica. One of the most spectacular places on earth. Very few people get to experience the great outdoors in this way, and once you have landed your jump, you'll hike or ski back to base with a tour guide—an adventure of a lifetime. 
Whatever gets your blood rushing, adventure awaits you all around the world. Not only will you make memories that will last a lifetime, you will also get to experience the incredibly diverse culture of each country. From the food to the people, your journey will take you to places you couldn't imagine and offer you so many rewarding moments. Trips like these test your strength and push you to the limits, helping you grow into the person you are meant to be. 
Staff Writer; Brad Ross