The Most Popular Video Game Genres.
(Akiit.com) If you are thinking of trying to provide some more entertainment to your children in the home, one option you might be looking into is video games. With enough video games at home, most children are going to be very happy with this option, and you will find that they are going to absolutely love that they have these choices. But the question you need to think about at this point is this: which are the most popular kinds of video games, and how can you make sure that you find the right example of each? This might be especially important to figure out on your own if you are keen to surprise your kids, for example. Let's take a look now and see what we can discover.
Racing
One of the most popular kinds of video games out there is racing games. There is something about the repetitive nature of these that can make them extremely playable, and you will find no complaints if you stock up on a few of these driving games for your children in the home. Don't worry if you are thinking about the effect these games might have on children: there is no evidence that it affects their real-life driving skills at all, especially if they are not even old enough to drive in real life just yet. So you can allow them to play these games to their hearts' content, without the fear of any consequence of that kind.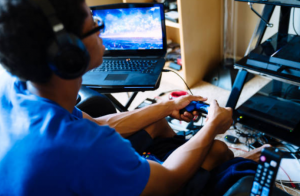 Fighting
Since the inception of games in the 80s, one of the most popular kinds of video games to exist has been fighting games. These come in a variety of forms, but there is a classic arcade style which remains some of the best-selling style of games going in the past few years. If you think of the older traditional Street Fighter style games, these are actually still extremely popular options for many people all around the world. Again, there is no link between playing these and actually being violent, and it is not something you are going to have to worry about. If you try them out with your children, you might even be surprised at just how harmless they really are.
Simulation
You could argue that all video games offer some kind of simulation, of course. But there are certain video games which really do give a certain kind of simulation that you can't get in other game types. For instance, by playing The Sims you can simulate this experience of playing god, in which you are in charge of an entire population of people. This is actually a potentially very rewarding and educational experience. For something a little lighter, there are games where you can simulate running a theme park or a hospital, or even flying a plane. These simulation games can have your kids playing for hours quite happily.
Sandbox
Increasingly, more and more children and adults are turning to the world of these sandbox or open world type games, in which they can build whatever they want and simply play around with it. If your children have ever expressed an interest in Minecraft, this is exactly what that game is. At first glance, you might find yourself wondering why they would want to play a game which is just them building stuff, but it has actually been shown to be something of an engineer's tool, and it looks as though it's set to blur the boundaries between game and simulation software tool. It's a fascinating one, and one type of game that is actually probably doing your kids a favour mentally when they play it.
Sports
For when the weather doesn't allow your children to go and play sports for real outside, you can at least simulate the experience with any of the many sports games that you can now get on a variety of consoles. If you know there is a particular sport which your child loves, then providing that is likely going to be a great way to make this a reality. Otherwise, you could simply try out some of the most popular and see whether they like them or not. All in all, sports are easily one of the bestsellers of the games world, so it's worth considering trying them out for your children.
Any of these could go down well with your kids, so try them out and see what kind of a reaction you get from them.
Staff Writer; Gary Parker