The Torch: Motherwit, Guideposts and Stories to Purposeful Womanhood.
(Akiit.com) Respected educator Suzanne M. Henderson, Ph.D., has announced a groundbreaking project highlighted by the launch of her new book, "The Torch: Motherwit, Guideposts and Stories to Purposeful Womanhood." This book seeks to derail and debunk the ideology that a young woman's value and purpose is only linked to over sexualized, inappropriate, and materialistic images that are often found in and perpetuated by popular culture and social media.
"As young girls, particularly young girls of color, seek to assert their own identities, they are inclined to look to women they admire in pursuit of lifestyles to mimic," said Henderson. "Confronted with ambiguous age boundaries and bombarded with popular cultural
icons, a pandemic is spreading fueled by influential media and overly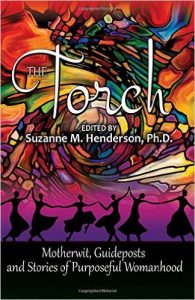 provocative media markets, which is encouraging today's young women of color into adult behaviors at young ages, and multiple risk
factors."
This book is targeted towards women 21 and above. The goal is for women to read the book and then pass it along to younger women.
This book is intended to generate inter-generational conversations between older and younger women. Henderson said the book is a collection of stories from women who shared their personal stories of rape, domestic abuse, low self esteem and other travesties and how they overcame the
challenges.
"This book passes on the lessons, puts THE TORCH of wisdom in the hands of young girls to guide them on the path to becoming purposeful women," added Henderson.
About the Author: Suzanne M. Henderson earned a doctorate in African American Studies from Temple University in 2007. In February of 2008, she became Assistant Dean in the Graduate Division of St. John College at St. John's University.
Henderson's previous higher education assignment was as Coordinator of Student Activities at Temple University Ambler. As a seasoned higher education administrator, Dr. Henderson planned and implemented various types of programs and educational opportunities that illuminated the value of scholarship and distinction in higher education. She is very passionate about conceptualizing, implementing, and adapting a full range of significant administrative services and programs that have pedagogy of learning and service that intersects race, ethnicities, class, gender, sexual orientations, and nationalities of all students. Throughout her professional career, Dr. Henderson has endeavored to enhance higher education opportunities for all students.
Originally from Chicago, Illinois, Dr. Henderson graduated from Iowa State University in 1990 with a Bachelors of Arts degree in Speech Communications/Theater. In 1993, she graduated with a Master of Science degree in Education with a specialization in Counseling from Iowa State University.
Website: http://suzannemhendersonphd.weebly.com/
Website for the book:
http://suzannemhendersonphd.weebly.com/buy?the?torch?here.html
On Amazon.com: The Torch: Motherwit, Guideposts and Stories of Purposeful Womanhood
Instagram: https://www.instagram.com/thetorchbook/
LinkedIn:
https://www.linkedin.com/in/suzanne-m-henderson-ph-d-7320aa7