Getting More Recognition For Your Small Brand.
(Akiit.com) Small businesses have a lot of advantages over big businesses. It might not feel that way when you compare your client base to that of the big corporations in your industry, but it's true. For starters, your small size makes your operations easier to manage. It's easier to develop loyal and long-lasting relationships with individual customers when you're operating on a local basis rather than a global basis. But that doesn't mean you'll never be able to scale up your business to the same size as your rivals. You just have to use your present-day strengths to your advantage when it comes to impressing existing and potential customers. Let's talk about ways to gain recognition for your small brand.
Get your client base to advertise you.
This sounds like a strange piece of advice on the surface, but it's actually one of the most effective ways to expand a small brand. And we're not talking about encouraging your customers to hand out flyers in the street (unless they're happy to do that). We're talking about word-of-mouth marketing. Referrals could help you with this. If every single one of your customers referred your business to just one friend then you'd double your client base instantly. You just need to give your customers an incentive to advertise you. Freebies and discounts usually work the trick. That'll let your clients know how much you value their help.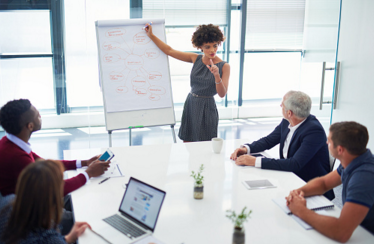 Invest your money wisely.
Another way to ensure that your business gains recognition is to stimulate growth. And investment is the best way to achieve this. But you need to spend your money wisely. For instance, you might want to hire more employees to increase workplace productivity. If you can deliver a more efficient service then you'll get better reviews from customers and gain recognition for being a professional and reliable business.
But you need to weigh up costs when it comes to making smart investments. For example, you could outsource work rather than hiring new full-time members of staff. This is a cost-effective way to increase productivity. You might also want to expand your business by increasing your data storage capacity. Rather than investing in physical servers, you could get a VPS to host your documents through a web host service. It's customisable and cost-effective. Investing your money wisely when boosting your brand recognition is about looking for cheap ways to grow that get results.
Get help from influencers.
As a small brand, it's hard to gain recognition. A lot of social media gurus might suggest different ways to boost your following, but the truth is that it's hard to gain subscribers or buy IG followers when you're running a new business on a budget. It's not until you have a big following (a genuine following, rather than "follow for follow") that your posts start to really make an impact. However, influencer marketing can help you jump to that end goal. If you can find social media influencers with big followings then they can help you to immediately reach a large audience. Just find an influencer with followers who might be interested in your products and services.
Staff Writer; Carla James