Film Review; Hooking Up.
(Akiit.com) He's a fool for love. She's gotta have it—with a lot of strangers. They're opposites destined to meet and teach each other life lessons.
Writer/director Nico Raineau, honed his filmmaking sensibility with short films (Brix and the Bitch) and TV series (OMG!). If you didn't know his stats before, you could guess his background from the way he scripted and directed this feeble romantic comedy. It's like he took the germ of an idea (short film) and tried to spin it out as a light comedy (TV) then stretch it into his first feature film. Doesn't work.
Darla Beene (Brittany Snow, Hairspray and Pitch Perfect) writes a sex column for a fairly forward-thinking magazine run by Tanya (Jordana Brewster). The column is the perfect outlet for Darla, as she is a sex addict. How much? So much that her boss has to fire her for having sex with an intern, in their offices, caught on security video.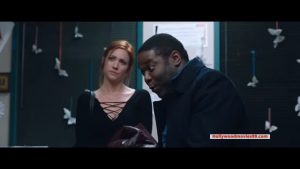 The courts order Darla into support group therapy. There she meets Bailey Brighton (Sam Richardson, Veep) her polar opposite. Bailey, a testicular cancer survivor, is hopelessly in love with his high school sweetheart Liz (Anna Akana, TV's Youth & Consequences). He has never had sex with anyone else and is in state of dismay as they've broken up and she's moved on.
On their initial meeting, Darla and Bailey are quite antagonistic. The more they interact and converse, the more friendly they become and integrated into each other's lives. To the point that they go on a cross-country driving tour to recreate some of Darla's most noted sexual trysts.
There's just enough plot here to mount a late-night Cinemax soft core porn series. Not enough to establish a bonafide feature film. At least not with the flimsy characters, shoddy plotlines and forced dialogue and humor that abounds in this misdirected train wreck (co-writer Lauren Schacher, TV's F*ck Yes). Darla: "She knows that no matter what's in your pants, you'll never be a real man." Bailey: "At least I know what it is like to be loved."
Under Raineau's guidance, the footage is begging for a laugh track, because only canned laughter would chuckle at this humor. His take on romance is a bit more salvageable, as there are one or two scenes where the combative duo find common ground long enough to crease the sheets. Audiences looking for real love, however, probably won't stick around long enough to get to that point. In a theater they might walk out. On Netflix or a streaming service, they will likely hit the menu button and search for a romantic comedy that delivers.
Brittany Snow is working overtime trying to find the soul of her character. But since the premise is weak and the writing doesn't jibe, the role isn't fully shaped and neither is her performance. Sam Richardson, a Second City alumnus and TV comic actor, seems equally at sea trying to figure out how to turn his shallowly written victim character into a person audiences could like. The supporting cast of Jordana Brewster, Amy Pietz, Vivica A. Fox, Shaun J Brown and Rob Moran stumbles.
A forgettable musical score (Greg Townley), dull cinematography (Jeff Bierman), lame sets (production designer Brittany Ingram; set decoration Jonathan Rudak), generic costumes (Mirin Soliz) and a pacing that barely gets you to the finish line (editor Waldemar Centeno) help sink any entertainment value.
It should be noted that the writers base idea had potential for good comic schtick. The kind that does wonders for skits on Saturday Night Live: Create a female role where the character is sexually aggressive. Create a male role where the man is looking for romance. Certainly, that kind of twist, in someone else's hands, could have been developed into biting satire.
For a comedy that brushes up against serious social problems—sexual addiction and cancer battles—the film makes unthoughtful misstep after unthoughtful misstep. Certainly, Darla and Bailey are in need of love and understanding by others and themselves. However, their voyage of self-discovery is never fun or insightful.
Coming up with a pretty catchy and inviting title, Hooking Up, is a start. But that's where the artistry ends.
Columnist; Dwight Brown
Official website; http://DwightBrownInk.com