Film Review; Sibyl.
(Akiit.com) If an audience can relate to a protagonist and her plight, they're hooked. If a character is fascinating in some way—even diabolical—viewers will pay attention. Relatable? Fanciful? No. Sibyl is puzzling. That's it.
Sibyl (Virginie Efira) is bored with her life as a psychotherapist. As her patients lie on a couch revealing their deepest fears, checkered pasts and testy problems, their doc is M.I.A. Physically she's in the room. Mentally she's focused on herself. Surprising her husband and leaving her children to fend for themselves, the wife and mom pursues her dream job. Writing a novel.
It's not the kind of premise that traditionally endears lead characters to an audience. To feel for her, viewers need to be convinced that the therapist's life is so miserable that she will only be happy if she follows her own dream. That case is never established. Hence, audiences may likely experience an emotional distance from and not an emotional attachment to the main character.
The vehicle that provides the unfulfilled analyst with the most whimsical outlet is the confessions of an actress patient, Margot (Adèle Exarchopoulos, Blue Is the Warmest Color). As the young thespian pines about her latest film project, Sibyl enters her world. She insinuates herself into the filming of a production being shot on a boat floating on the Mediterranean Sea. She stands out oddly, like a Stan Lee cameo in Marvel movies.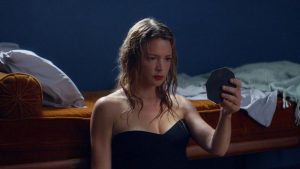 The screenplay (Arthur Harari and Justine Triet) weaves an increasingly self-involved story centered around the protagonist's feelings and fantasies. She isn't fighting against a central, outer problem. There's nothing for her to solve, except playing out her curiosity. No major challenge. The husband isn't a mean, abusive antagonist. Any demons or worries are purely internal—lodged in her mind. As a director and co-writer Justine Triet has her work cut out for her. How do you turn a 1h 40min "It's all about me" film into a captivating story viewers can love? It isn't an easy task, and she can't.
Triet's approach to the material involves making stories within stories viable, turning thin melodramatic moments into real drama and transforming quirky interactions into pivotal incidents. Her efforts never turn the story into a worthwhile endeavor. Viewers who follow Sibyl down her path of self-discovery will wonder, "Where is she going? What life lesson must she learn? What life-altering direction will she take that can make her adventures satisfying?" Those are good questions that are never answered.
As a director, working with cinematographer Simon Beaufils, Triet clearly has a good eye. You never question the staging, composition, lighting or color schemes. She builds an atmosphere that is clear. It's easy enough to fathom Sibyl's dull world versus the one she wished she lived in. There are highly erotic moments too that are filmed in a way that captures a female perspective. These scenes don't belittle the character and are more sensual than hardcore. That isn't an easy feat. Credit the director for her good taste and sound judgement from a technical and artistic standpoint.
Certainly, with actress Virginie Efira (Un Amour Impossible) as her muse, Triet has the advantage of making her central character physically alluring, coquettish and confused in a somewhat provocative way. The director and actress create a Sibyl persona that morphs from a therapist to a film groupie who is visually interesting. She's unsettling when she pushes herself on others. Pathetic when alcohol clouds her judgement. It's a pity most of her antics are more curious than compelling.
Shots of a mountain looking like it's rising up out of the sea are indelible. The clothes (costume designer Virginie Montel) the entire crew wears have their own appeal, especially Virginie Efira in a strapless black dress. The production design (Toma Baqueni) never intrudes. Scenes fit together well enough (editor Lauren Sénéchal), even though their jumbled nature may test audiences' ability to discern.
Why did director Justine Triet, who has a background in documentaries, pick this project? If that's a question you have to ask the filmmaker, then something about the film lacks an obvious passion and purpose.
Columnist; Dwight Brown
Official website; http://DwightBrownInk.com