Film Review; Elvis.
(Akiit.com) (**1/2)
Baz Luhrmann photobombs this Elvis portrait with over-extravagant filmmaking that dwarfs the iconic rock and roller. And that ain't easy.
The script, cowritten by Luhrmann, Sam Bromell and Craig Pearce (Moulin Rouge! and Romeo + Juliet), puts it all out there. Ambitious singer borrows heavily from R&B music, fuses it with up-tempo rock and twangy country and fame beyond words follows. Surprisingly, the doorway into the superstar's life story isn't a first-person accounting or even his wife's perspective. Instead, it's the recollections of his embittered, smarmy former manager, Colonel Tom Parker: "I gave the world Elvis Presley."  Actually, he exploited Elvis and making the villainous Parker fascinating for 2h 39min is an unrealistic task that's been passed on to Tom Hanks.
With prosthetics and a fat suit, Hank still doesn't look like Parker. With an affected Euro trash accent, he doesn't sound like the Netherlands-born manager either. In fact, Hanks' portrayal is so annoying it borders on caricature. The only time the actor seems to get a grip on Parker is towards the film's end. That's when Luhrmann's bombardment of split screen effects and image collages subside, and the greedy carnival barker and overworked music star confront each other.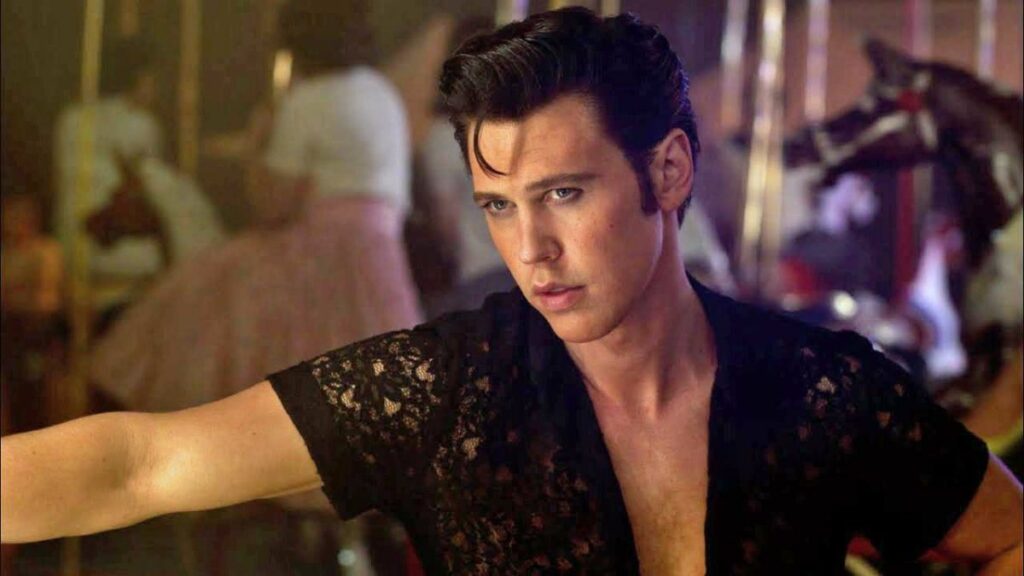 Yes, the constant barrage of kaleidoscope filmmaking takes away from the story. That said, most of the excessive visuals are eye-catching from a tech standpoint. Production design (Catherine Martin and Karen Murphy), art direction (Damien Drew), set decoration (Shaun Barry, Beverley Dunn and Daniel Reader) and costume design (Catherine Martin) are music video quality. The cinematography (Mandy Walker) captures every piece of stylized clothing, studio interior, concert venue and lavish hairdo with crisp colors, intriguing composition and perfect framing. Also, pity the film was shot in Australia and not Memphis, Vegas or the deep south. Doing so might have added much needed authenticity.
For those not familiar with Elvis the Pelvis (Austin Butler): Born 1935 in Tupelo, MS and raised in Memphis, TN. His alcoholic mom Gladys (Helen Thomson) was supportive, and Dad Vernon (Richard Roxburgh Moulin Rouge!) became his manager. The Svengali Parker courted the singer/acoustic guitar player after Elvis's first hit on Sun Records, "That's All Right." The script takes liberties at will: e.g., Parker cementing a deal to manage Elvis at an amusement park didn't really happen.
The '50s, '60s'and '70s roll by. Presley is drafted into the army in 1958, meets a 14-year-old named Priscilla (Olivia DeJonge), marries her when she becomes 21 and they live at his Graceland Estate. Hip-swinging hits ("Hound Dog"), romantic ballads ("Love Me Tender"), hard rockers ("Jailhouse Rock") and other million-selling records bring him acclaim and riches. A movie career (King Creole, Blue Hawaii) ensues. Prescription drug abuse too, unraveling his stellar career and pulling the Vegas headliner into a downward spiral.
The black singers who influenced Presley are depicted in cameo roles: Willie Mae "Big Momma" Thornton (Shonka Dukureh), Little Richard (Alton Mason), Sister Rosetta Tharpe (Yola) and BB King (Kelvin Harrison Jr.). Scenes of Elvis cavorting in black neighborhoods, churches and dance clubs indicate where Elvis caught his "R&B/Blues" fever.
According to this script, no one Black ever confronted Presley about him dipping into their music, and everything was hunky dory. That seems a bit too rosy. It's doubtful there wasn't some kind of friction, the kind of drama that could cut through the movie's fluff. Segregation is present. The groundbreaking mixing of the races at concerts is too. Why not show the difficulties Presley experienced with other musicians? Show how the Justin Bieber of that generation moved through his world.
The principle cast, minus Hanks, is on target. Thomson, Roxburgh and DeJonge as mom, dad and Priscilla are fine. Supporting characters too: Harrison Jr. as King and David Wenham as Elvis's mentor Hank Snow, a Grand Old Opry country star. Fate and genes made Austin Butler perfect for the job as Elvis. He looks, growls, bumps and grinds like the real deal. The hair, eyes and attitude are there, though Luhrmann, the Phil Spector of the movie industry, seems to use Butler more as a GQ model than an actor in his "wall of filmmaking." Also, everything would be more convincing if the lip singing cast had sung live (a la Les Misérables).
There are many points when this music bio could have ended. It's another example of the kind of excess that may make audiences wish that someone had thrown Luhrmann and editors Matt Villa and Jonathan Redmond out of the editing room and judiciously cut 10-15 minutes of fat. Or that someone had a heart to heart with visual effects supervisor Thomas Wood and said: "No, this is too much."
The bio/film Bohemian Rhapsody got the drama/art balance right and trusted the lead actor Rami Malek to bring Freddie Mercury to life. Rocketman told Elton John's life story with evocative visual effects that didn't ruin anything. Luhrmann's artistic choices during his far superior Romeo + Juliet shows he can make an elaborate drama that doesn't go overboard.
Scenery-chewing craftsmanship hogs the screen and overshadows Elvis's spirit. But for fans who want a glimpse of their rock and roll hero, this will have to suffice.
Trailer: 
Columnist; Dwight Brown
Official website; http://DwightBrownInk.com